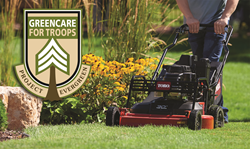 "We believe this program is just one small way that we can help make a positive difference in the lives of military families, and we would encourage anyone who may qualify to sign up." - Chris Hannan, senior marketing manager at Toro
Bloomington, Minnesota (PRWEB) September 16, 2016
GreenCare for Troops, a program that pairs volunteer landscape contractors with military families in need of landscaping services, celebrates 10 years running. Project EverGreen, a non-profit organization dedicated to revitalizing green spaces across the country, manages the program and receives funding and support from popular turf care equipment manufacturers like The Toro Company.
Together, Toro, Project EverGreen and contractors like Will Krammer, who uses a Toro walk mower when tending lawns, are able to make a difference in the lives of these military families. Will Krammer of Lake Elmo, Minnesota, started Krammer's Lawn and Snow Removal in 2008 to help people. Because the business is veteran-owned, it is important to Krammer and his crew to give back to military families in need.
Krammer first discovered GreenCare for Troops four years ago. Since then, Krammer — a Navy veteran himself — and his crew have offered up their services to military families in need of lawn care or snow removal. Krammer's business offers lawn care, including fertilizer, weed control and snow removal. Typical projects under the program include mowing, turf renovation and seasonal cleanup, but according to Krammer, work is ultimately dependent upon the families' specific needs.
"As a veteran-owned company, we like to give back to our current service members and our disabled veterans, who are either out protecting, or are just unable to tend to their lawns as they once used to," said Krammer.
Project EverGreen gives a lot of credit to volunteers like Krammer and his crew for the success of the program. "Simply put, Will Krammer and his team embody selflessness, and use their skills to make the world a better place," explained Cindy Code, executive director of Project EverGreen. "Many military families are still unaware this program is available, and we want these folks to know we have landscape contractors ready to be paired with families to help make a positive difference in their lives."
Equipment manufacturers are also making an impact through monetary support. For example, Toro makes a financial donation to GreenCare for Troops to help fund the program. According to Chris Hannan, senior marketing manager at Toro, the company believes in the value of the program and would like to see more military families take advantage of the benefits of the program. "The landscape contractors who are participating in this program are true professionals, and want to give back to those who have sacrificed so much for our communities," explained Hannan. "We believe this program is just one small way that we can help make a positive difference in the lives of military families, and we would encourage anyone who may qualify to sign up."
The GreenCare For Troops initiative is currently looking for both military families that can benefit from free landscaping services and landscape contractors looking to give back to their respective communities. For more information on the Green Care for Troops program, please visit projectevergreen.org. To register either as a GreenCare for troops volunteer or a military family, please visit the GreenCare for Troops website.
About The Toro Company
The Toro Company (NYSE: TTC) is a leading worldwide provider of innovative solutions for the outdoor environment including turf, snow and ground engaging equipment, and irrigation and outdoor lighting solutions. With sales of $2.4 billion in fiscal 2015, Toro's global presence extends to more than 90 countries. Through constant innovation and caring relationships built on trust and integrity, Toro and its family of brands have built a legacy of excellence by helping customers care for golf courses, landscapes, sports fields, public green spaces, commercial and residential properties and agricultural fields. For more information, visit http://www.toro.com.
###