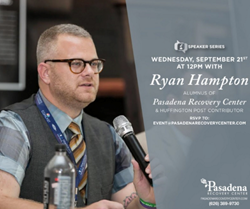 Pasadena, California (PRWEB) September 19, 2016
Pasadena Recovery Center is pleased to welcome Democratic Delegate and PRC Alumnus, Ryan Hampton, to their groundbreaking speaker series event on Wednesday, September 21st at 12 P.M. Hampton is a featured contributor to the Huffington Post covering both addiction and politics and currently serves as the Los Angeles outreach lead for Facing Addiction, a national not-for-profit organization dedicated to ending the addiction crisis in America. Prior to that, he worked with multiple non-profits across the country and has served in a staff capacity for various political campaigns.
In 2016, Hampton publicly disclosed his decade-long struggle with heroin and prescription medications, along with his journey in recovery, in an effort to advocate for reform on a national public policy level.
"We are so incredibly proud of our graduate Mr. Ryan Hampton, and look forward to welcoming him back as our featured guest for this month's speaker series," says Michael Bloom, CEO of Pasadena Recovery Center. "We are all looking forward to hearing this heroic man's story and all that he has accomplished since completing his program here at Pasadena Recovery Center."
Hampton was an elected California Democratic delegate for Hillary Clinton to the 2016 Democratic National Convention, specifically advocating for the addiction & recovery community. In order to raise awareness, Hampton produced a 7-part documentary series, Facing Addiction Across America, chronicling his 2,500 mile journey to the DNC. His hope was to advocate for reform and seek out other like-minded people in long-term recovery to join the growing movement to end the addiction epidemic.
For his work on the #AddictionXAmerica project, Hampton has been called "the guy changing the way America looks at addiction." His journey has been featured on the Huffington Post, USA Today, Los Angeles Times, CBS, NBC, and Dr. Oz.
Pasadena Recovery Center Speaker Series hosts amazing authors, entrepreneurs, celebrities, and experts to talk about their personal experiences with addiction and the way it has affected both themselves and the people around them. Previous guests include Dr. Drew Pinsky, Bob Forrest, Mackenzie Phillips, Robert Shapiro, Steve-O, Kristen Johnston, David Sheff, Kevin Sabet, Pat O'Brien, Candy Finnigan, and many more.
Pasadena Recovery Center: Located in the charming historic district of Pasadena, the Pasadena Recovery Center was co-founded in 2000 by renowned psychiatrist Dr. Lee Bloom, his daughter Alison Triessl, and his son Michael Bloom. The 98-bed drug and alcohol treatment center is nationally known for its 12-step based comprehensive treatment program and highly skilled, licensed and certified staff. Pasadena Recovery Center is dedicated to providing compassionate, comprehensive care to those suffering from chemical dependency and is proud to offer lifesaving and life-changing treatment at an affordable cost. Pasadena Recovery Center offers in- Page 2/3 If you have any questions regarding information in these press releases please contact the company listed in the press release. Our complete disclaimer appears here network providers for insurance. The Pasadena Recovery Center's goal is to reintroduce sober individuals into society with the skills necessary to lead meaningful, productive lives and offers sober housing in addition to treatment. Spruce House is located only minutes away from their facility and is committed to providing an affordable home-like environment for men in early recovery from chemical dependency.