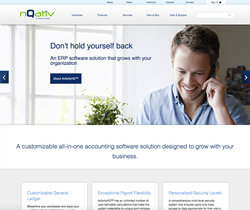 The website is meant to be a resource...around new accounting trends and business analysis improvements.
Lubbock, TX (PRWEB) October 06, 2016
The nQativ accounting software brand announced today that it has just released its new website nQativ.com. The website aims to provide a resource for business trend investigation and a pleasant navigational experience to customers seeking a flexible solution to their accounting needs.
After an extensive study of the market, nQativ decided that there was a necessity for more improved online tools for their customers to use. The new website features information about its ten accounting software packages and six accounting services available as well as ongoing shifts and advancements in business information systems. "The website is meant to be a resource, not just a marketing tool," says designer Pamela Landrum, "we have restructured the blog section around new accounting trends and business analysis improvements."
The change comes after a total rebranding of nQativ's accounting software ActivityHD™. The software now includes new logos, opening screen, icons and will soon see an updated appearance to its web portal. Its new development on ASP.NET framework makes expansion and improvements much more possible and more improvements will continue to come.
About nQativ
nQativ, a CoNetrix company, has been developing accounting software since 1977. Headquartered in Lubbock, Texas, nQativ has customers across the United States and parts of Canada. nQativ developers and accounting experts are focused on creating innovative solutions for your unique accounting and payroll needs in a secured environment through the ActivityHD ERP software. With its constant evolution and continued addition of different software solutions, the company has remained at the forefront of accounting trends – providing first-rate customer service to its diverse group of customers.