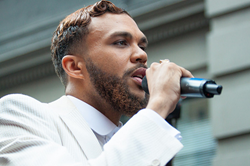 Our goal is to use the arts to create a "cool factor" to have a lasting impact on the minds of youth regarding a future in tech," explains ImprintCity Founder, Tyra Fennell
San Francisco, CA (PRWEB) October 04, 2016
On Saturday, October 22nd from Noon to 7:00 p.m., Imprint.City in partnership with Mission Bit and the Mural Music & Arts Project will launch the first annual BayviewLIVE Festival. BayviewLIVE, a festival created to address the digital divide by leveraging resources to support tech education for neighborhood youth will welcome Grammy Award nominated artist, Jidenna, a large scale mural lead by artist Cameron Moberg and youth artists from the Mural Music & Arts Project and a robust tech experience area provided by Airb&b.
"San Francisco is the international hub of the tech community, yet our residents of color experience tremendous barriers to meaningfully participate. At Mission Bit, we've been solving the tech divide by lending laptops to youth of color that don't have them at home and offering free coding education that will support them with being able to compete for jobs or start their own businesses, says a native to the Bayview-Hunters Point and Mission Bit CEO, Stevon Cook.
The Bayview, an historically African American neighborhood in San Francisco, has been afflicted by many disparities including violence, low high school graduation rates and lack of opportunities for job readiness, particularly among African-American and Latino males. There are also huge inequalities as it pertains to access to science, technology, engineering, art and math education (S.T.E.A.M). BayviewLIVE, a S.T.E.A.M festival, was developed to highlight the beauty of the performing and visual arts, reflecting the cultural landscape of the neighborhood while also bringing revenue to local businesses. The festival, additionally seeks to motivate young people of color to stay with S.T.E.A.M education training by showcasing their final projects during a vibrant, fun-filled arts festival.
"What we hope to achieve by featuring student tech projects and youth artists at the BayviewLIVE festival and including high profile visual and performing artists, is providing the kind of "cool factor" needed to have a lasting impact on the minds of youth participants, encouraging them to continue their journey within the tech and arts space," explains Imprint.City executive director, Tyra Fennell.
The BayviewLIVE Festival is presented by the Imprint.City, the Mural Music & Arts Project and Mission Bit with funding support from the California Arts Council, Facebook, KQED, the San Francisco Community Challenge Grant Program, Five Point, Airb&b, the Bayview YMCA, SF Foundation, the Bayview Alliance and McCormack, Baron, Salazar.
INFORMATION: Visit http://www.bayviewlive.com
ABOUT THE BAYVIEWLIVE TEAM
Imprint.City is a non-profit organization seeking to activate industrial, underutilized spaces with arts and culture events as well as community development projects, encouraging increased foot traffic and economic vitality.
The Mural Music & Arts Project (MMAP) is an organization that educates, empowers and inspires youth through the arts. MMAP believes that art is integral to a thriving community life, and is a safe platform for risk taking and creative expression. MMAP also connects disadvantaged youth with consistent, encouraging mentors and role models through art programs, emphasizing community development, academic achievement, and their own positive futures.
Mission Bit strives to eliminate the tech divide for youth living in underserved areas across the San Francisco Bay Area by building computer programming and professional opportunity pathways.
For information about the BayviewLIVE Festival, visit bayviewlive.com