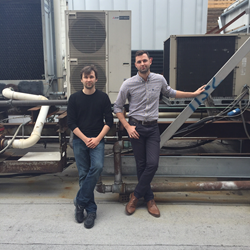 Small advertising agencies are hungry to bring the power of digital to their clients.
New York, New York (PRWEB) September 16, 2016
GetIntent, a global provider of programmatic advertising software solutions, announced today the launch of a new service, AdTrek500. With a one-time project cost of US$500.00, AdTrek500 paves the way for clients of small and mid-sized agencies to explore the world of digital advertising with minimal risk or investment.
"Programmatic advertising provides a level of market intelligence that no business can afford to be without these days," said George Levin, Co-Founder and CEO of GetIntent. "Small advertising agencies are hungry to bring the power of digital to their clients, but often budget concerns keeps them from diving in. GetIntent is a tech company first, second and third, and therefore we have agility that other ad tech companies lack. And now with the AdTrek500 service, we are able to give access that others don't for a low upstart cost."
The AdTrek500 components include:
Pixel Placement - GetIntent created smart pixels that can be easily generated and placed quickly. Once they are placed on an advertiser's website, we can match the data we collect with segments to help paint the picture of the brand's target market.
Inventory Reporting - Advertisers always want to look up a domain they know well and see if they can serve media on it. With AdTrek500, they can see if the website they want is available and roughly how much inventory there is on it for what cost. For example: "I want to be on The New York Times with X amount of impressions for a $100 budget."
A/B Testing - Clients will create two separate ads and serve them both evenly, in terms of targeting and volume to see if one receives a higher interaction rate from a user.
Geo Fencing - AdTrek500 allows a marketer to pick an address, a point of interest, or even a Lat/Long coordinate and wrap a radius around this target to serve ads within. For example: 10 miles around a college campus.
Dynamic Retargeting - With GetIntent, we can show users an ad of a specific product from an advertiser once they have already been to their website and shown interest. This will receive a higher response rate rather than showing them ads all the products a company may offer, but are not interested in. For example: "I am interested in these certain size of blue jeans, but do not need any shirts."
To speak with someone about AdTrek500, please call 917-677-9054.
About GetIntent
GetIntent is an independent global ad tech company with offices in NYC and Moscow. Their suite of proprietary software solutions, all developed internally, provides customers with unsurpassed flexibility, control and transparency, significantly lowering cost and reducing time-to-market. Founded in 2013 by Russian mathematicians George Levin and Vladimir Klimontovich, GetIntent provides transparent and convenient access to RTB infrastructure. In autumn of 2013, GetIntent attracted its first seed investment; $400,000 from venture fund AltaIR Capital. In July of 2014 the company expanded internationally and set up their office in New York. In September of 2015, GetIntent secured $1m in the second seed round of financing led by Buran Venture Capital and co-investor Thomas Falk.
# # #
Media Contact:
Pete Holmberg / Zach Williams
Code Morris
pete.holmberg@codemorris / zach.williams@codemorris.com
917-501-7434