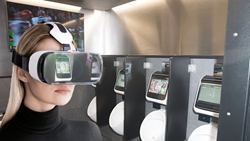 Tailgating Sports Marketing is on the cutting edge of technology and continues to upgrade and enhance the ultimate fan experience.
Lake Wylie, SC (PRWEB) September 20, 2016
Today it seems as if Virtual Reality (VR) devices dominate the news. Tailgating Sports Marketing (TGSM) has positioned itself on the cutting edge of Virtual Reality in professional sports with the recent release of a Virtual Reality solution for venues, sponsors, and fans.
While some stadiums have already jumped on the VR train by using VR to release exclusive footage - including pre and post-game footage, historical takes on the team, and other amazing VR experiences, Tailgating Sports Marketing is taking it a step further. TGSM is providing a 360-degree interior view of the ultimate tailgating experience and amenities that most NFL and collegiate organizations have not provided in the past.
The Virtual Reality sports space has been overwhelming dominated by men, however, a recent case study when offered this Premium Fan Experience, resulted in a 159% increase in the Female demographic.
The Tailgating Sports Marketing restroom trailers feature 22 high definition monitors with interactive gaming and sponsors video ads, full satellite coverage of the event, and an 80" outdoor TV with live event coverage. In addition, our digital interactive premium restroom trailers provide free Wi-Fi connectivity, mobile app access for venues, and beacon sensors that furnishes comprehensive analytics to increase fan engagement.
To date, TGSM has provided a popular and immersive digital restroom experience for three collegiate football events. The response from venues and sponsors has been huge throughout the east coast and the Midwest. Currently, TGSM is building out phase two, which will feature upgraded technology and faster connectivity for fans.
Virtual Reality is here, and it is changing the way fans and venues engage. TGSM is on the cutting edge of technology and continues to upgrade and enhance the ultimate fan experience.
For more information on the interactive restroom trailers from Tailgating Sports Marketing, please contact our team at 888-995-2285.
About Tailgating Sports Marketing:
Tailgating Sports Marketing is a subdivision of Portable Restroom Trailers, LLC located in Lake Wylie, South Carolina. Lake Wylie is located outside of Charlotte, North Carolina and is only 1-hour north of Columbia, South Carolina. The division was established to provide stadiums, festivals, tailgating associations, concerts, and other events a fresh alternative to temporary restroom facilities. TGSM offers a state-of-the-art, fully interactive restroom trailer designed as an interactive engagement activation experience. Restrooms feature HD digital displays, interactive media display triggers, and mobile device gaming. Aimed at providing guests an unforgettable, comfortable and unique restroom experience, the units are also lucrative revenue opportunities for venue owners, sponsors and advertisers.
For more information, visit http://www.TailgatingSportsMarketing.com.