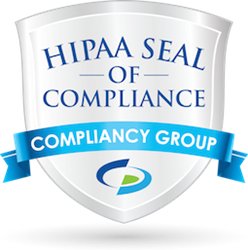 "These guides and resources come directly from our team's expertise in HIPAA,"
Greenlawn, NY (PRWEB) September 16, 2016
Compliancy Group is proud to announce the launch of the new HIPAA Help Center for Covered Entities and Business Associates.
The HIPAA Help Center is an online knowledgebase for health care professionals. Clients of Compliancy Group will have access to in-depth guides, tutorials, and FAQs about HIPAA regulation.
Users of Compliancy Group's web-based HIPAA compliance solution, The Guard, are guided by their Compliance Coach through the implementation process. Coaches are always available for support, but now, with the HIPAA Help Center, users can further educate themselves about the ins and outs of HIPAA compliance. These resources were built specifically for end-users and work in tandem with support from Compliancy Group's team of expert Compliance Coaches.
"These guides and resources come directly from our team's expertise in HIPAA," says Bob Grant, Chief Compliance Officer and co-founder of Compliancy Group. "As former auditors, we have a unique understanding of HIPAA regulation that we use every day in educating our clients. The HIPAA Help Center is just another way Compliancy Group is putting health care professionals back in control of their organization's compliance."
Access to the HIPAA Help Center is included in a subscription to The Guard. It's optimized to simplify compliance so that users can continue their HIPAA education while building a compliance program that's customized for their business.
To learn more about the HIPAA Help Center and about how Compliancy Group simplifies the world of compliance, click here.
About Compliancy Group:
Compliancy Group LLC allows anyone to simplify the growing challenges of HIPAA compliance, whether they are an experienced health care professional with compliance expertise or a front desk manager without any formal training. The Guard is our simple, cost-effective, web-based solution that can help any organization regulate and monitor all aspects of their HIPAA compliance throughout their entire practice. With Compliancy Group, you'll be guided by our team of expert Compliance Coaches to Achieve, Illustrate, and Maintain compliance with confidence under the full spectrum of HIPAA, HITECH, and Omnibus regulations. Visit http://www.compliancy-group.com or contact us at 855.854.4722 (855 85 HIPAA) to learn how simple compliance can be.