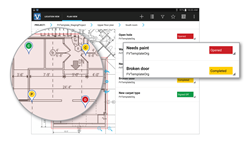 Portland, Oregon (PRWEB) September 15, 2016
Field View is an easily configurable, off-line mobile solution enabling users to capture field observations from anywhere on the job site – even when there is no internet connection – helping to resolve issues more quickly, reduce risk, improve workflows and deliver higher quality projects.
In order to speed user adoption and overall time to value, Field View now offers pre-configured forms and tasks. The new features dramatically decrease the time it takes to bring projects on-line, which translates into improved field communications and efficiency. New templates include Daily Field Reports, Progress Photos, QC Inspections, Safety Audits, Change Orders and Punch Lists – eliminating time spent on basic creation and account setup. Once deployed, the forms can be modified to fit specific processes or data capture needs.
"Users now can use the power of Field View's mobile forms immediately, by selecting a mobile form or task sheet from our library. Users will experience the benefits of Field View's mobile solutions instantly and can focus on analyzing field data and flagging conflicts that could affect quality and reviewing safety documentation. In addition, Field View will continue to support the configurability needs for contractors who need custom mobile forms or tasks to suit the particular needs of their field teams. The overall result will be improved productivity and the delivery of better projects," states Matthew Harris, Senior Vice President of Products.
This initial release which is set to continue growing over time includes a wide array of essential forms and tasks.
About Viewpoint Construction Software
Viewpoint is a provider of innovative construction-specific software solutions to the global construction and capital project industries. Viewpoint provides the tools these industries need to improve project profitability through better visibility, risk management and real-time team collaboration. Viewpoint solutions address the full construction life-cycle from planning/bidding to construction and facilities maintenance. Viewpoint's solutions are offered on a variety of platforms, including Cloud, Mobile, SaaS and On Premises. Headquartered in Portland, Oregon, USA, and with offices in the UK and Australia, Viewpoint has become the technology partner of choice, with customers located across the globe in more than 28 countries. These customers include more than 40 percent of the ENR 400, and over 20 percent of the ENR 600. For more information, please visit http://www.viewpoint.com.