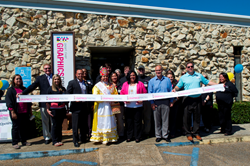 Choctaw, MS (PRWEB) September 15, 2016
The Choctaw Resort Development Enterprise (CRDE), a business enterprise of the Mississippi Band of Choctaw Indians is pleased to introduce their latest business venture, Pearl River Graphics Printing (PRGP). The grand opening took place on Thursday, September 15th at 11am. The event began with a ribbon cutting and opening remarks by PRGP/Marketing Director Gerrard Cook and Tribal Chief Phyliss J. Anderson. Others in attendance were the 2016-2017 Choctaw Indian Princess Breanna Layne Isaac, Interim President & CEO William "Sonny" Johnson, and other members of Pearl River Resort executive leadership team.
Located in Choctaw, Mississippi, Pearl River Graphics Printing is a specialized printing company that was designed to service individuals, businesses, and non-profit organizations locally and across the state. The company's wide range of capabilities include small and large format printing of banners, stake signs, posters, invitations, business cards, letterheads, envelopes, flyers and much more.
For more information, please call 601.656.3636 or visit http://www.pearlriverprinting.com. The facility is located in the old First American building at 404 Industrial Road, Suite 1, Choctaw, MS 39350. Hours of operation are Monday thru Friday; 9am thru 4pm.
ABOUT PEARL RIVER RESORT
Owned and operated by the Mississippi Band of Choctaw Indians, Pearl River Resort is the South's premier resort destination. Pearl River Resort's portfolio of assets includes Silver Star Hotel & Casino, Golden Moon Hotel & Casino, Dancing Rabbit Golf Club, and Geyser Falls Water Theme Park located in Choctaw, Mississippi and Bok Homa Casino located in Sandersville, MS.
The Silver Star and Golden Moon Casinos feature a variety of gaming options, hotel rooms, dining options, retail offerings, conference facilities, live entertainment and a full service spa. The all-new Pearl River Resort also offers a new gaming floor with the latest first-in-state slot machines, elevated poker room, remodeled hotel rooms, a stunning video wall, refreshed buffet, updated promenade, and more. Also featured is Dancing Rabbit Golf Club with two championship golf courses and Geyser Falls Water Theme Park. Bok Homa Casino features over 720 slot machines, 12 table games, an event center and a fabulous quick serve eatery.
###