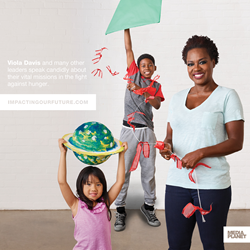 With more than 7.9 million* children living in food-insecure homes, the need is great.
New York, NY (PRWEB) September 16, 2016
The annual campaign returns to shed light on the different ways to help end hunger in America. From exclusive interviews, resources and inspirational stories, "Feeding Our Nation" tackles the variety of problems that are being dealt with in this country regarding hunger, and ways that people can make it a thing of the past. It also provides insight to the developing trends and tech within the industry, from leading advocates and associations—namely Feed the Children.
The aim of this campaign will be to raise awareness to our readers for Hunger in America, and inspire action ranging from making donations, volunteering, and supporting the organizations that have amazing hunger initiatives. From childhood to senior hunger, and everything in between, we have found amazing solutions to help make hunger a thing of the past. One association that is going above and beyond to help fight hunger in America is Feed the Children.
Through corporate partnerships and a national network of partner agencies, Feed the Children continues its core work to end child hunger. Semitrucks may be seen traveling across the U.S. bringing the anti-hunger organization's boxes of food and essentials (shampoo, lotion, personal-care items, etc.) to those in need.
Believing education is the best way to break the cycle of poverty and hunger, Feed the Children operates four Teacher Store locations, with its fifth location officially opening later this year. These stores offer free school materials and books to educators in Title I schools in five states and a portion of Michigan. Feed the Children also strives to help children who are homeless through its Homeless Education and Literacy Program (H.E.L.P.). This program has provided more than 837,000 backpacks to American children since its inception in 2006. Each backpack is filled with school supplies as well as shelf-stable foods.
With more than 7.9 million* children living in food-insecure homes, the need is great. To learn more about how to help, visit feedthechildren.org.
The print component of "Feeding Our Nation" is distributed within the weekend edition of USA Today in New York, Los Angeles, Washington D.C./Baltimore, and New Orleans markets with a circulation of approximately 250,000 copies and an estimated readership of 750,000 people. The digital component is distributed through a vast social media strategy, across a system of top news sites and partner outlets.
About Feed the Children
Established in 1979, Feed the Children exists to end child hunger. It is one of the largest U.S.-based charities and serves those in need in the U.S. and in 10 countries around the world. It provides food, education, essentials and disaster relief. Domestically, it operates 5 distribution centers (located in Oklahoma, Indiana, California, Tennessee and Pennsylvania). In fiscal year 2015, Feed the Children distributed 107 million pounds of food and essentials valued at $302 million to people in the U.S., and internationally, it sponsored nearly 24,500 children, addressing the root causes of poverty through child sponsorship and school sponsorship. It is accredited by GuideStar Exchange and the BBB Wise Giving Alliance as well as maintains a 4-star rating from Charity Navigator.
Visit http://www.feedthechildren.org for more information.
About Mediaplanet
Mediaplanet is the leading independent publisher of content-marketing campaigns covering a variety of topics and industries. We turn consumer interest into action by providing readers with motivational editorial, pairing it with relevant advertisers and distributing it within top newspapers and online platforms around the world.
*Source: U.S. Department of Agriculture (USDA)