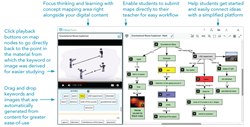 Ideaphora has given us a way to make student thinking visible...allows for easy formative assessment and reflection by the students.
Portland, Oregon (PRWEB) September 15, 2016
Spending more than $3 billion on digital content, such as videos and ebooks, with plans to increase use of these materials, schools and districts need to ensure their investment yields improved learning outcomes. Today, Ideaphora launches its online concept mapping environment for classroom use, helping educators foster students' higher order thinking skills with digital content.
According to the 2016 CoSN IT Leadership Survey, nearly 90 percent of district respondents expect their instructional materials to be at least 50 percent digital within the next three years. However, digital content is only transformative in the classroom when it reaches higher-order teaching and learning.
Ideaphora Classroom empowers educators to seamlessly apply concept mapping to digital content to create deeper learning experiences for their students, instilling lasting knowledge and college and career readiness. Teachers can assign resources or allow students to identify their own to use in their maps for various learning activities across the school curriculum: note-taking, brainstorming, research, reinforcing a lesson, or introducing a new topic. As students interact with digital content, such as ebooks, videos and PDFs, they discover key concepts and build connections among them in a visual map, moving them up through the top levels of Bloom's Revised Taxonomy. The platform effectively guides students through the concept mapping process all in one screen – from finding the right resources to connecting ideas to modifying their maps with new information or corrections in their reasoning to teacher submission.
"Ideaphora has given us a way to make student thinking visible," said Mike Jones, STEM Instructor and Technology Coach for Bloomington School District 87 in Bloomington, Illinois. "It is easy for students to get started, derive meaning, and reflect it in a visual way. The concept map environment allows for easy formative assessment and reflection by the students."
Ideaphora Classroom offers schools and educators:

Simplified platform featuring content presented side-by-side the mapping area with easy-to-use tools to focus student thinking and learning
Drag-and-drop keywords and images to help students get started quickly and minimize distractions
Library of vetted open education resources and the ability to upload third-party materials to find and use one or more in a single map
Playback buttons and other features that aid student studying and review
Easy set up through an educators' Google Classroom or Edmodo account or directly through Ideaphora
Privacy/safety controls for teachers to set according to their needs
Teacher-student workflow that captures student work for formative assessment and targeted feedback
Flexible platform to allow students to modify their maps as their learning progresses and to track their growth
Ideaphora Classroom is available for purchase through the Ideaphora website or by contacting info(at)Ideaphora(dot)com. Educators interested in evaluating the product with their students can enroll in the free Classroom Pilot Program. To learn more, visit ideaphora.com/classroom.
About Ideaphora
Ideaphora is committed to shaping young minds by developing technologies that help students learn how to construct, retain and apply knowledge from the growing array of digital content. The company offers the first-of-its-kind learning environment that enables students to engage with and assimilate online content in a way that's seamless, effective and personalized. Ideaphora supports schools and educators in extending the proven practice of concept mapping to the demands of today's digitally driven world. Visit Ideaphora.com for more information or contact info(at)ideaphora(dot)com.
# # #