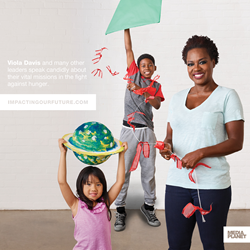 shed light on the different ways to help end hunger in America
New York, NY (PRWEB) September 16, 2016
The annual campaign returns to shed light on the different ways we are helping end hunger in America. From exclusive interviews, resources and inspirational stories, "Feeding Our Nation" tackles the variety of problems that we are dealing with in our country regarding hunger, and ways that we can do individually to make it a thing of the past. It also provides insight to the developing trends and tech within the industry, from leading advocates and associations—namely YMCA of the USA.
The aim of this campaign will be to raise awareness to our readers for Hunger in America, and inspire action ranging from making donations, volunteering, and supporting the organizations that have amazing hunger initiatives. From childhood to senior hunger, and everything in between, we have found amazing solutions to help make hunger a thing of the past. One company that is going above and beyond to help fight hunger in America is YMCA of the USA.
To help kids stay healthy, succeed in school and reach their full potential, the Y feeds kids throughout the summer and afterschool, thanks to support from the Walmart Foundation. Combining educational and physical activity, the programs keep kids' minds and bodies active, while also serving a healthy to kids who may otherwise be at risk of hunger when the school day ends. Last year, the Y served over 485,000 kids nearly 18 million meals and snacks nationwide.
The print component of "Feeding Our Nation" is distributed within the weekend edition of USA Today in New York, Los Angeles, Washington D.C./Baltimore, and New Orleans markets with a circulation of approximately 250,000 copies and an estimated readership of 750,000 people. The digital component is distributed through a vast social media strategy, across a system of top news sites and partner outlets.
About YMCA of the USA
The Y is one of the nation's leading nonprofits strengthening communities through youth development, healthy living and social responsibility. Across the U.S., 2,700 Ys engage 22 million men, women and children – regardless of age, income or background – to nurture the potential of children and teens, improve the nation's health and well-being, and provide opportunities to give back and support neighbors. Anchored in more than 10,000 communities, the Y has the long-standing relationships and physical presence not just to promise, but to deliver, lasting personal and social change.
About Mediaplanet
Mediaplanet is the leading independent publisher of content-marketing campaigns covering a variety of topics and industries. We turn consumer interest into action by providing readers with motivational editorial, pairing it with relevant advertisers and distributing it within top newspapers and online platforms around the world.