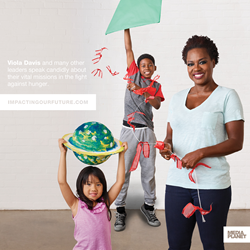 New York, NY (PRWEB) September 16, 2016
The annual campaign returns to shed light on the variety of ways we are helping end hunger in America. From exclusive interviews, resources and inspirational stories, "Feeding Our Children" tackles the variety of problems that we are dealing with in our country regarding hunger, and ways that we can do individually to make it a thing of the past.
"Feeding Our Nation" is distributed within the weekend edition of USA TODAY, in highly targeted markets totaling approximately 250,000 copies and an estimated readership of 750,000 people. The insert will be supported by an original Mediaplanet digital campaign reaching a specialized, worldwide audience. It will be concurrently promoted by a number of industry blogs, social media sites and through partners such as Sargento, YMCA of the USA, Feed The Children, No Kid Hungry & Root Cause Coalition.
Key features of this campaign include an exclusive interview with Emmy winner & two time Oscar nominee Viola Davis, star of the hit show "How to Get Away with Murder" on ABC. Viola is actively involved in ending hunger domestically, in particular childhood hunger, with her initiative Hunger Is. She talks in detail on why her heart is so invested in the fight to end hunger, and what you can do to help the cause.
Also included in this campaign is television personality Rachael Ray, who is teaming up with Feeding America to discuss the rise of food rescue programs in our country. We also have New York Mets star Curtis Granderson, star of the New York Mets, who is discussing how he is donating his per diems so that thousands of people across the country have healthful & plentiful food. No Kid Hungry is also penning a very important piece on why the world's wealthiest nation is hungry, and key steps in order to end that.
About Mediaplanet-
Mediaplanet is the leading independent publisher of content-marketing campaigns covering a variety of topics and industries. We turn consumer interest into action by providing readers with motivational editorial, pairing it with relevant advertisers and distributing it within top newspapers and online platforms around the world.