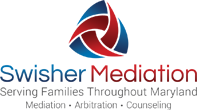 We are excited to announce a new look to swishermediation.com
Baltimore, MD (PRWEB) September 21, 2016
Dr. Tom Swisher is an attorney and licensed professional counselor. He combines these two areas to offer "Solution & Child Focused Mediation"™. Dr. Swisher is also a professor at Stevenson University where he teaches courses in "Family Studies," "Family Dynamics & Interventions," and about "Child Development." He has published widely on topics related to "Adaptation to Divorce," "Personality & Divorce," and "Coping with Divorce."
The new website (http://www.swishermediation.com) is designed to be user friendly for individuals going through the challenges of separation and divorce. It contains a useful checklist for topics frequently covered by Parenting & Separation Agreements. It also provides several brief videos covering topics which range from "The Mediation & Divorce Process" to "The Impact of Divorce on Children & Parents"… and more!
For professionals or users interested in Dr. Swisher's research on divorce, see the blog section for recently published research articles in both National and International Peer Reviewed Journals. Dr. Swisher has presented his research at conferences throughout the U.S. and as far away as India. He is available for speaking engagements or consultations with attorneys, counselors, and other professionals.
Dr. Swisher can be contacted through the website, http://www.swishermediation.com, or by phone at (410) 750-2655, or by email at tom(at)swishermediation(dot)com. Thanks for your self-referral and your referrals of clients, friends & family.