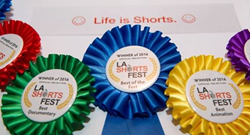 'We are thrilled that Munich '72 was singled out for this honor.' - David Ulich, film producer
Los Angeles, California (PRWEB) September 16, 2016
"Munich '72 and Beyond," a searing account of the Munich Olympic Massacre and subsequent 43-year fight for recognition by the victims' families, was named Best Documentary at the Los Angeles International Short Film Festival.
"We are thrilled that 'Munich '72' was singled out for this honor," said David Ulich, one of the film's producers, along with Dr. Steven Ungerleider. "We were able to capture an important story four decades in the making, culminating in a memorial to the victims." With hundreds of films submitted, the LA Shorts Fest is a prestigious screening that celebrates a wide variety of shorter length films, one of the largest festivals of its kind in the world.
The festival is accredited by the Academy of Motion Picture Arts and Sciences and award winners are eligible for Academy nomination. LA Shorts Fest alumni directors include Tim Burton, Bryan Singer, David Lynch, Scarlett Johansson, Terry Gilliam, Kirsten Dunst, John Woo and many more.
The Best Documentary winner, "Munich '72 and Beyond," presents new insight into the first act of modern terror on a global stage, when Palestinian extremists killed 11 Israeli athletes, disrupting the Summer Olympics and shocking the world. With chilling detail, this meticulously researched documentary unravels why and how the attack happened, its aftermath, and its importance to us today. The film brings alarming new evidence to light that the victims were brutally tortured, which has made news around the world. It also captures a poignant struggle for public remembrance since the event.
A Production by the Foundation for Global Sports Development, "Munich '72 and Beyond" is produced by Dr. Steven Ungerleider and David Ulich and directed by the award-winning filmmaker Stephen Crisman, with Executive Producer Michael Cascio.
About Steven Ungerleider and David Ulich
Dr. Steven Ungerleider and David Ulich serve as executive board members to GSD. Both have worked closely with the Olympic movement for many decades; Dr. Ungerleider has written several books on Olympic topics, including the best-selling Faust's Gold: Inside the East German Doping Machine, which examined the 30 year doping activities of the late East German regime and was made into an award winning film. Ulich and Ungerleider have designed prevention based programs for youth at risk including a mentorship outreach taking youngsters to the Olympic Games.
About Stephen Crisman
Steven Crisman is an award-winning documentary producer, writer and director, whose prestigious programs have aired on CBS 60 Minutes, A&E, History, MSNBC, and Food Network. His work includes in-depth television documentaries on Bob Dylan, Eugene O'Neill, gun control, Swiss banking and "Nazi Gold," Alcoholics Anonymous, and American history. Crisman Films has an Emmy award, seven Emmy nominations, multiple Cable Ace and Banff nominations, and screenings at the Berlin Film Festival and several others.
About Michael Cascio
With four Emmys, two Oscar nominations and a "Producer of the Year" award, Cascio has a noteworthy career in documentary TV programming. As National Geographic Channel's EVP, Programming, he was the driving force behind many important and successful programs, including the record-breaking Inside 9/11, the award-winning Restrepo, and the recent mini-series, The '90s: The Last Great Decade? As EVP/GM at Animal Planet, Cascio delivered record ratings and hit shows. He's most recognized for his work at A&E, supervising the award-winning Biography series, as well as Investigative Reports, City Confidential and documentaries such as Titanic: Death of a Dream. He was VP at NBC News, creating a documentary strategy for MSNBC. Among his accolades, Cascio was cited in Entertainment Weekly's "It List," as one of the most creative people in the media. Cascio now advises selected media and production partners through his company, M&C Media LLC.
About Global Sports Development
Working closely with international sports federations, generous donors and committed athletes, The Foundation for Global Sports Development promotes sportsmanship, education, fair play and ethics among the world's youth. The Foundation gives special emphasis to groups and communities that are most in need or most underserved by current programs, including women, minorities and youth in areas where the risk of delinquency is particularly high. Visit http://www.globalsportsdevelopment.org to learn more.