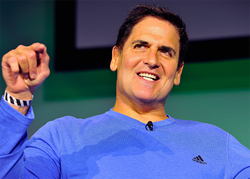 Reach hundreds of influencers within the entrepreneurship community
Los Angeles, CA (PRWEB) September 17, 2016
WHAT: Vator Splash LA 2016 startup and investor festival
DATE: October 13, 2016
PLACE: Loews Santa Monica Hotel, Los Angeles, CA
TIME: 8am-5:35pm
PRICE: Day of walk-ins: $425. Get tickets here: http://vator.tv/splashlatix
CONTACT: RSVP email press(at)vator(dot)tv
Here's what's in store!
Shark Tank at Splash... sort of: Mark Cuban, iconic entrepreneur, owner of The Dallas Mavericks and Shark Tank Host sits down to judge the startup competition. Plus, Cuban - a vocal critic of Donald Trump - will share his political views (aspirations?); talk about applying his investing and startup lessons to the business of sports, and how to apply the business of sports to investing.
Marketing phenom to $1B acquisition: Mike Jones, Founder of Science, which has invested in some of LA's top startups, like Dollar Shave Club, will share lessons about the startups journey toward being purchased by Unilever for $1B.
LA's top Founders/CEOs: Nick Green, CEO & Founder of Thrive Market, which has raised $149 million in financing. Brian Lee, CEO & Founder of The Honest Company, which has raised $222 million in VC funding, Sean Brecker, CEO of Headspace. Tri Tran, Founder & CEO of Munchery, which has raised $120 million, financing. Andre Haddad, CEO of Turo, which has raised nearly $100M. Both Munchery and Turo are not based in LA, but have a big presence in the market.
Talking IPO? Amidst a time when IPOs are few and far between, Adam Goldenberg, CEO & Founder ofJustFab, an online subscription fashion that's raised $249 million in financing, will give us an overview of how his company is doing and whether 2017 may be the year for an IPO.
VC insights: VC Founding partners from Javelin Venture Partners, Susa Ventures, Vator Investment Club, Greycroft Partners, TYLT Ventures, Mucker Capital, Wavemaker Partners, Lightspeed Venture Partners, Efficient Capacity.
Magic Box Paradigm: The unconventional approach to M&A. Ezra Roizen shares his non-traditional view of startup acquisitions.
For press passes, email press(at)vator(dot)tv and Mitos(at)vator(dot)tv
Image source : TechCrunch