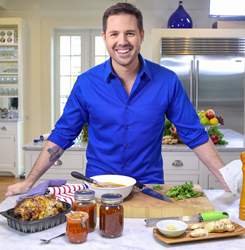 "I am thrilled to be part of a groundbreaking new venture to bring food, flavor and fun to millions of movie lovers across the country," says Chadwick Boyd, host of new series "Reel Food."
NEW YORK (PRWEB) September 16, 2016
Food and lifestyle expert and TV host Chadwick Boyd hosts an innovative new food short series, "Reel Food," launching in theaters today. The specialized content was created and executive produced by Screenvision Media's in-house content studio 40 Foot Solutions, with production strategy provided by media specialists Gail Yancosek Consulting. The segment is the first installment of Screenvision Media's "Reel Content" original lifestyle programming and will run nationally within its 14,000 screen network during the Front + Center preshow.
"I am thrilled to be part of a groundbreaking new venture to bring food, flavor and fun to millions of movie lovers across the country," says Boyd. "As a film buff myself, it's really cool to be able to create and share recipes and kitchen tips inspired by current movies that entertain people before the show and motivate them to get into their kitchens at home," Boyd added.
In the Reel Food series, Boyd features "spicy and sweet" dishes inspired by the hottest upcoming films. The recipes are tailor-made for any level of home cook and appeal to food lovers of all ages. They also are customized depending on where movie-goers are located. For Midwesterners, Boyd has a playful twist on deep dish pizza. Southerners get a creative shortcut for crispy, crunchy chicken tenders. Movie lovers out west are served up a simple and surprising update for #TacoTuesday. Northeasterners get a delicious game-changer for game day.
"We are always looking to enhance the moviegoing experience for our audience, and are excited to bring original food programming to the big screen. This is our first original lifestyle segment to roll-out under our new programming block called 'Reel Content', and Chadwick is the perfect person to kick things off for us," said John McCauley, chief strategic development officer of Screenvision Media. "Given the exceptional popularity of food in pop culture today, it was a natural fit for us to create original programming around it for our preshow, and we see plenty of opportunities for integration with national, regional and local advertisers alike."
Movie fans can sign up on Boyd's Facebook Fan Page http://www.facebook.com/chadwickboyd to get the recipes. Throughout the Reel Food run, he will host Facebook LIVE broadcasts each week to interact and engage with followers as well as share new tips and tricks to make the dishes shown on screen.
To find a Screenvision Media theater and watch Reel Food with Chadwick Boyd, moviegoers can go to http://screenvisionmedia.com/find-theatre.
# # #
ABOUT CHADWICK BOYD
Chadwick Boyd is a nationally recognized food and lifestyle expert, TV host and author with test kitchens in New York City and Atlanta. He regularly appears on Food Network, Lifetime, Fox, NBC and more, sharing recipes and entertaining tips with millions of viewers. Chadwick contributes to Better Homes and Gardens, The Kitchn, TODAY.com and Huffington Post, among others, and is regularly featured in Redbook, House Beautiful, Southern Living and more. He has a Recipe Collection titled, "Entertaining with Vegetables," which is now in its 4th printing, and is working on a new cookbook for modern home cooks slated for release in 2018. Chadwick is a James Beard Foundation Journalism judge and helps organize the Southern Food Writing Conference and International Biscuit Festival. He also travels frequently around the country to food festivals, conferences and trade shows, making appearances and studying emerging food trends. Follow Chadwick on Facebook, Twitter and Instagram @chadwickboyd. Find out more at ChadwickBoydLifestyle.com.
ABOUT SCREENVISION MEDIA
Headquartered in New York, N.Y., Screenvision Media is a national leader in cinema advertising, offering on-screen advertising, in-lobby promotions and integrated marketing programs to national, regional and local advertisers and providing comprehensive cinema advertising representation services to top tier theatrical exhibitors presenting the highest quality moviegoing experience. The Screenvision Media cinema advertising network is comprised of over 14,300 screens in 2,300+ theater locations across all 50 states and 94% of DMAs nationwide; delivering through more than 150 theatrical circuits, including 6 of the top 10 exhibitor companies. For more information: http://screenvisionmedia.com/.