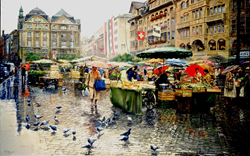 "To ensure my father is recognized long-term in the canon of master American painters, I'm pursuing museum retrospectives, participating in the market; serving as a resource to collectors, dealers, curators, & aficionados," said Elizabeth Hulings.
Santa Fe, New Mexico (PRWEB) September 16, 2016
Revered for capturing the essence of ancestral homelands. Championed for technical brilliance. Respected for his profound impact on American art since the 1970's. This is Clark Hulings (1922-2011): award-winning realist painter. For the first time, The Hulings Estate is making available its extensive catalogue, documentation, and information about the artist's art and career, for the benefit of collectors, dealers, curators and his legions of fans.
Hulings was a global artist who depicted the heart and soul of everyday people and their lives, from the Grand Canyon to Oaxacan villages to Parisian traffic circles. Among his signature subjects are complex architectural scenes and vibrant outdoor markets boasting their arrays of colors, surfaces, and shapes. His affection for donkeys became a trademark, with the animal's quiet demeanor of loyalty and toughness serving as a metaphor for human patience and perseverance.
Hulings' wife, Mary, and daughter, Elizabeth, have dedicated countless hours to organizing the artist's material, including sales records and provenance, personal journals and letters, images of the artist and his works in context, and historical data and ephemera. Now they are sharing this treasure trove of information through a robust new online platform, and offering direct support in licensing, authentication, appraisals, and sales advisory services.
"We want to make it as easy as possible for people to secure our help," says Elizabeth. "If you need to do something with a Hulings painting, why not tap our extensive knowledge? Our team has spent 40 years researching, caring for and selling Clark Hulings' work. We're in the best position to assist you."
The vibrant new Clark Hulings website takes viewers on a journey of Hulings as an artist and a man of his time; why he painted what he did; and why those works matter. It is a valuable resource for anyone who wants to learn about, buy, sell or track a work by Clark Hulings. The site showcases pieces from all periods of his 60-year career, one can register to receive information about original work, and there's a store with giclées, prints, and catalogues for those who are not in the market for an original, but would like to own a Hulings in some form.
In addition, Elizabeth will create a new post every week featuring a different work, with information that hasn't been published on the web before. These posts will include Clark Hulings' own writings—what he had to say about various paintings and situations—and she will add her own anecdotes. Sometimes, the blog will work the other way. She will post an image of something that she wants to learn more about. "The Clark Hulings site is also a resource for me," said Elizabeth. "I hope that people will share information so I may continue to build toward a complete catalogue raisonée."
With the unveiling of Clark Hulings' archives, his wife and daughter honor his legacy and continue to solidify his position in the canon of American artists. "It is my responsibility to ensure that my father is recognized long-term in the canon of master American painters. I'm pursuing museum retrospectives, actively participating in the marketplace, and serving as a resource to collectors, dealers, curators, and aficionados," said Elizabeth.
"When someone calls about a painting inherited from his Aunt Sally that he didn't even know she had, and doesn't know what to do with, I help him figure it out," she added. "That's my job."
For more information, visit http://clarkhulings.com.