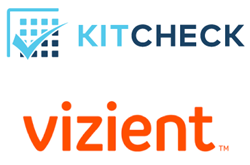 We are happy to add Vizient to Kit Check's extensive ecosystem of GPO, distributer and healthcare technology partners.
Washington, D.C. (PRWEB) September 20, 2016
Vizient, Inc., has awarded a group purchasing agreement to Kit Check™ (https://kitcheck.com). Kit Check was previously also awarded Vizient's Innovative Technology Designation. Kit Check tracks the inventory and use of hospital medications, kits and trays using an RFID (Internet of Things) and cloud software solution. The contract arrangement makes Kit Check available to all Vizient members, which includes academic medical centers, pediatric facilities, community hospitals, integrated health delivery networks and non-acute health care providers at pre-negotiated pricing and terms.
Kit Check replaces traditional manual medication tracking methods that have proven time consuming and error prone. A 2015 peer-review pharmacy journal study found that the average time savings for Kit Check users was 80.4%. Other studies have shown significant improvements in medication distribution accuracy with one hospital reporting 240,000 medications tracked with zero errors. More than 15 million medications have been tracked by Kit Check at several hundred hospitals since 2012.
The Vizient announcement to its member hospitals states: "Vizient and Kit Check, Inc. announce a new agreement, effective September 1, for Kit Check, an automated cloud-based inventory tracking and replenishment system for pharmaceutical trays and kits. Member hospitals can use an RFID system to tag items in anesthesia trays and other procedure specific containers to assure proper billing, replacement and other quality control measures. This results in more efficient billing as well as enhanced patient safety by assuring a completely replenished kit with current medications."
"We are happy to add Vizient to Kit Check's extensive ecosystem of GPO, distributer and healthcare technology partners. A key benefit for Kit Check users is that our solution is integrated with the healthcare partners that hospitals already use and trust. Vizient is the largest Group Purchasing Organization in the U.S. and Pharmacy Purchasing and Products reports that Kit Check is the leading provider of pharmacy medication tracking and replenishment software by a wide margin, so we believe the purchasing agreement is a good match for both organizations. We look forward to serving Vizient members and helping them improve efficiency while enhancing patient safety," said Kit Check vice president Doug Zurawski, Pharm.D.
About Kit Check™
Kit Check™ is the leader in automated hospital pharmacy kit processing and medication inventory tracking software and the most widely used Internet of Things (IoT) solution in healthcare. Kit Check has been a friend to the hospital pharmacist since 2012, tracking over 15 million medications at hundreds of hospitals. The cloud software and RFID-based solutions automate time consuming and error prone manual hospital pharmacy processes to make medication distribution, tracking and reconciliation faster and safer. Kit Check is headquartered in Washington, DC and serves hospitals throughout the United States. For more information please contact Kit Check™ by email at PR@kitcheck.com or call at (786) 548-2432 ext. 5.