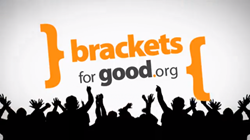 This past March, $267,759 was raised for nonprofits in the Louisville area.
(PRWEB) September 19, 2016
Calling all Louisville nonprofits: Charitable organization Brackets For Good challenges your organization to friendly competition and a chance to win $10,000!
Indianapolis-based Brackets For Good hosts online, bracket-style fundraising tournaments every March in communities around the United States. Participating nonprofits rally enthusiastic donors to out-fundraise their opponents in order to advance. These organizations gain exposure, access to free fundraising tools and potential new donors through Brackets for Good's localized marketing and corporate involvement.
The 2016 tournament in the Louisville area garnered 1,998 donations, 36 percent of which were first-time donations. Donors gave $267,759 total, and tournament champion Families for Effective Autism Treatment (FEAT) brought in $26,093, on top of the $10,000 awarded by corporate sponsor Bingham Greenebaum Doll.
Since Brackets For Good's kickoff contest in 2012, it has raised more than $2.75 million for local charities. Due to the overwhelming success, the tournament originally expanded from Indianapolis to Louisville, followed by Ann Arbor, St. Louis and Twin Cities. Brackets For Good is pleased to announce it will break into several other markets in 2017, including Denver, Cincinnati, Miami, Hartford, Nashville and Baltimore.
To participate, charities should register free at https://louisville.bfg.org/city by Oct. 28, 2016. One-hundred-fifty-four Louisville nonprofits have already registered to be considered to play in the 2017 tournament starting Feb. 24.
Additionally, Louisville is one of just a few cities in which Brackets For Good is introducing Community Teammates. As a Brackets For Good Community Teammate, local business will be systematically paired with a local nonprofit to help them - however they think best - advance in the 2017 Brackets For Good tournament. The selection process is dependent on the pool of nonprofits that register as well as the company's geographic and cause preferences.
Being a Community Teammate offers participating local business several employee-engaging, brand-building benefits that highlight their organization as an active, socially responsible company in the Louisville-area. For more information about Community Teammates, visit https://louisville.bfg.org/community_teammates.
The positive impact of the Brackets For Good tournament on the Louisville-area is only made possible due to the support of local businesses dedicated to the community.
"The combined efforts of our attorneys help more than 100 nonprofit organizations across Indiana, Kentucky and Ohio," said Robyn Radomski, Chief Business Development & Marketing Officer, Bingham Greenebaum Doll LLP. "Supporting Brackets For Good amplifies our impact on nonprofit organizations, allows us to empower numerous organizations with one investment, and is a fun way to create social good. We've been longtime partners of Brackets For Good and are excited about the impact we'll make in the communities in which we collaborate."
Brackets For Good 2017 Louisville sponsors include: Bingham Greenebaum Doll LLP, Valeo Financial, Kentucky Select, Harding Shymanski and Lids.
"We're excited to be returning to host a Louisville Brackets For Good tournament," said Reid McDowell Brackets For Good Partnerships & Marketing Director. "This past March, $267,759 was raised for nonprofits in the Louisville area. We're confident this year's tournament will be even more successful at raising awareness and funds for local nonprofits. Beyond raising funds for nonprofits, we're excited about the longterm impact of getting more and new people in the Louisville community involved in philanthropy."
For more information, visit https://louisville.bfg.org/city.
About BRACKETS FOR GOOD
Brackets For Good is an Indianapolis, IN based 501(c)3 charitable organization focused on activating new donors, and increasing awareness for other nonprofit organizations through competitive, online fundraising at no cost.