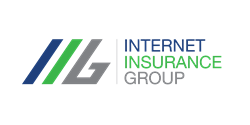 IIG agents work solely with micro businesses, so we know how to assess the best coverage options at the most competitive prices.
Waltham, Massachusetts (PRWEB) September 19, 2016
Internet Insurance Group (IIG), a national insurance agency that sells commercial insurance to small businesses, launched its flagship website SmallBusinessQuote.com. The company has been in stealth mode for the past year as it built out its product offerings by teaming with A+ Rated national carriers and refined its technology platform. IIG received its initial funding from First Insurance Funding, Northern Bank & Trust, and angel investors.
The company was founded by seasoned insurance executives who combine extensive knowledge of online insurance marketing and commercial lines sales. Co-founder and CEO Lou Geremia spent the past 15 years running some of the largest online P&C agencies and insurance lead generation companies in the industry. "Small businesses are increasingly turning to online platforms to manage a number of their key administrative functions such as payroll, benefits, credit and accounting, so it is only natural that they will seek similar outlets for insurance," Geremia said.
IIG offers small businesses online access to licensed agents who guide them through the purchase process and provide them with quotes from the top carriers in the U.S. Co-Founder Newton Johnson, also President of Eastern States Insurance Agency for the last 35 years, added: "IIG agents work solely with micro businesses, so we know how to assess the best coverage options at the most competitive prices. Our customers can educate themselves on our website and purchase a policy in a matter of minutes."
Apart from being a source to obtain commercial insurance, IIG will also be delivering insightful content to help their clients grow their businesses. IIG has plans to expand its product offering over time utilizing intuitive web domains to offer businesses targeted information and coverages based on their industry. As an example, the company plans to offer online quoting and purchasing for cyber liability insurance in the coming months on Databreachcoverage.com.
About Internet Insurance Group (IIG)
Built by insurance industry leaders, IIG offers small businesses across the country the ability to learn, shop and buy coverage online immediately for their most valuable asset. Using numerous web properties focused on specific industries and products, IIG helps small businesses make smart decisions about their risk management needs. Our experienced agents provide valuable guidance and have access to Liberty Mutual, Travelers, The Hartford and other A+ rated insurance carriers in the industry. IIG provides a fast, efficient, and free way to find the best small business insurance coverage. For more information, please visit http://www.internetinsurancegroup.com.