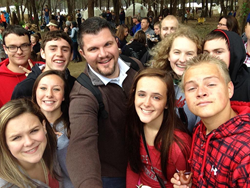 New York, NY (PRWEB) September 17, 2016
The Gilder Lehrman Institute of American History is pleased to announce that Kevin Cline from Marion, Indiana, has been named the 2016 National History Teacher of the Year. Mr. Cline teaches United States history and government and world history at Frankton High School in Frankton, Indiana. The annual National History Teacher of the Year Award has highlighted the importance of quality history education by honoring an American history teacher from elementary school to high school since 2004.
Mr. Cline will receive a $10,000 award and attend a ceremony in his honor at the Yale Club in New York City on October 24, 2016. The award will be presented by Gordon S. Wood, who is the Alva O. Way University Professor and Professor of History Emeritus at Brown University and the recipient of the 1993 Pulitzer Prize for History for The Radicalism of the American Revolution.
"I am so incredibly honored and humbled to have been chosen for this award, especially when I consider the vast multitude of amazing educators around the country," says Mr. Cline. "As honored as I am, however, it doesn't match the privilege I have, every day, to work with the best kids. There is not a single good thing that happens in our classroom that isn't because of them."
Mr. Cline uses innovative digital tools in his teaching, such as incorporating social media into his lessons on Indiana state history, and worked with Indiana University to create Freedom Summer, an educational application on the Civil Rights Movement. He inspires his students to become more active citizens, and notes proudly that many of his students vote and volunteer at polling sites.
"I am in awe of Kevin's passion for history education," says Tim Bailey, the Gilder Lehrman Institute's Director of Education, "his method of teaching history as a storyteller along with his use of primary sources exemplifies the creativity and enthusiasm of a National History Teacher of the Year."
Mr. Cline is also the Department Chair for Social Studies at his school and an advisor and board member for the National History Club. He frequently shares his teaching methods in presentations through the Indiana Department of Education.
In addition to the national award, the Gilder Lehrman Institute annually recognizes a first-rate history teacher in every state and US territory. Winners of the state awards receive $1,000 and an archive of books and resources for their school library, and become finalists for the national award.
To learn more about the award and to find a list of previous national and state winners, visit gilderlehrman.org/nhtoy.
About the Gilder Lehrman Institute of American History
Founded in 1994 by Richard Gilder and Lewis E. Lehrman, the Gilder Lehrman Institute of American History is a nonprofit organization devoted to the improvement of history education. The Institute has developed an array of programs for schools, teachers, and students that now operate in all 50 states, including an Affiliate School program with more than 9,000 participating schools, a website that draws 7 million unique visits annually, and the groundbreaking AP US History Study Guide. The Institute's programs have been recognized by awards from the White House, the National Endowment for the Humanities, and the Organization of American Historians. For further information, visit gilderlehrman.org or call (646) 366-9666.