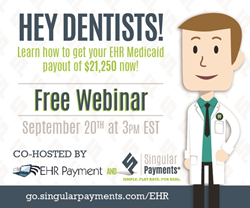 We are working together to teach dental offices how each eligible professional in their practice may qualify for $21,250 by enrolling in the Medicaid EHR Incentives program.
Saint Augustine, FL (PRWEB) September 19, 2016
Singular Payments, LLC., the only payment processor in the industry focused on custom flat rates credit card processing for dental professionals is excited to announce their new partnership with EHR Payment to educate dentists on how to collect the Medicaid EHR Incentive Stimulus payment of $21,250. To kick off the initiative Singular Payments and EHR Payment are co-hosting a joint webinar on this topic on Tuesday September 20th at 3pm EST. Registration for this exciting event is open now.
The American Recovery and Reinvestment Act of 2009 (the Recovery Act) was passed by Congress and signed into law on February 17, 2009. The law includes programs under Medicare and Medicaid to provide incentive payments to eligible providers (EP's) for the "adoption and meaningful use" of certified electronic health records (EHR) technology. Many busy dental practices are already part of the Medicaid provider program and are working toward going paperless so collecting the EHR Incentive should be simple – and yet many providers are not taking advantage of the EHR Incentive Program.
During the webinar the EHR Payment team will help dental providers identify if they qualify for the payout by reviewing some simple guidelines. While busy dental professionals may be skeptical about this program understanding the 'why' behind the payouts should address those concerns. First, the Federal government is doing this to save administrative costs for Medicaid and Medicare - and it's working. Even with these payouts the Centers for Medicare and Medicaid Services (CMS) is still saving billions by streamlining their billing processes, reducing fraud, reducing double submissions. And it's believed that EHR adoption will improve patient involvement for better patient outcome. So basically, EHR Incentive payouts are a win for everyone – the CMS budget, providers and ultimately the patients.
Lastly, the EHR Incentive Payment Program funds are coming from each state's own EHR Incentive Program budget. Each state administers their own program and have their own requirements. Dental providers can utilize http://www.ehrpayment.com to get help looking up the requirements in their state and attend the webinar on September 20th at 3pm EST to learn more. To get paid, dental offices will receive funds directly into their business banking account, just like any other Medicaid payment.
"I'm excited to announce our partnership with Singular Payments to support their dental clients' EHR initiatives. We are working together to teach dental offices how each eligible professional in their practice may qualify for $21,250 by enrolling in the Medicaid EHR Incentives program. In conjunction with Singular Payments, I'll be educating providers during the webinar on Sept 20th on how to get started before the program ends 12/31/2016. Participants will also learn what purchases, equipment upgrades and technologies providers are using the funds for to invest in their business," said Mandy Kerth, CEO of EHR Payment.
Learn more about the program in Singular Payments' recent blog on the topic, "Your Guide to EHR Incentive Payouts" and register for the webinar now.
About Singular Payments, LLC
Based in sunny Saint Augustine, FL Singular Payments, LLC is a sales and marketing company serving the payment processing industry with a revolutionary limitless flat rate billing model that simplifies accepting credit/debit cards for small to medium-size merchants nationwide. Call (877) 829-7256 for a savings analysis or visit us online at http://www.singularpayments.com to learn more.
###