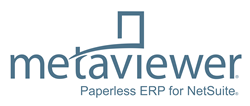 The certification is a validation that our existing integration continues to work seamlessly in the upgraded 2016.2 environment.
(PRWEB) September 19, 2016
Metafile Information Systems announced today that MetaViewer, its flagship document management solution, has been re-verified as a "Built for NetSuite" SuiteApp.
MetaViewer originally became Built for NetSuite certified in Dec. 2014 and has since certified its SuiteApp for NetSuite 2015.1, 2015.2, 2016.1 and now 2016.2.
In order to become re-verified, Metafile staff:

Tested MetaViewer's functionality against the upgraded NetSuite development environment, identifying issues and resolving them.
Reviewed changes to the SuiteApp Architectural Fundamentals and Examples (SAFE) and its questionnaire, and submitted an updated questionnaire.
Communicated with the NetSuite team, who reviewed the re-verification and approved the application as Built for NetSuite.
"We constantly strive to provide the most up-to-date solutions, and by re-verifying we are able to continually make sure that our integration with NetSuite meets their technological advancements and provides a great experience for the end-user," Nick Sprau, VP of marketing and sales at Metafile said.
NetSuite customers using integrated products, like MetaViewer, are able to test the new NetSuite application during a pre-release review window to familiarize themselves with any new functionality and provide feedback to NetSuite and NetSuite partners.
"I am very excited to have completed the Built for NetSuite certification successfully again," Metafile integration development team lead, Steve Conners, said. "The certification is a validation that our existing integration continues to work seamlessly in the upgraded 2016.2 environment."
NetSuite releases new versions of its software twice per year, and MetaViewer will continue to be re-verified based on this release cycle to maintain compliance with the newest and latest NetSuite technology.
To learn more about MetaViewer's integration with NetSuite ERP, visit http://www.metaviewer.com/for-netsuite.
About Metafile
Founded in 1979 and headquartered in Rochester, Minn., Metafile is an established, independent and efficient provider of paperless document management software applications supporting accounts payable, accounts receivable and human resources departments in middle-market and large businesses nationwide. More than 3,500 organizations have translated Metafile's content management solutions into enterprise-wide value and a competitive advantage. MetaViewer is Metafile's flagship paperless document management solution, offering paper and electronic invoice capture, web-based workflow, two and three-way matching, real-time graphical visibility and full ERP integration. Today, more than 15,000 financial professionals worldwide are efficiently processing more than 15 million paperless transactions per week with the MetaViewer solution. For more information visit http://www.metaviewer.com.
About NetSuite
NetSuite Inc. is the industry's leading provider of cloud-based financials / Enterprise Resource Planning (ERP) and omnichannel commerce software suites. In addition to financials / ERP and omnichannel commerce software suites, NetSuite offers a broad suite of applications, including financial management, Customer Relationship Management (CRM), ecommerce and retail management, Professional Services Automation (PSA) and Human Capital Management (HCM) that enable companies to manage most of their core business operations in its single integrated suite. NetSuite software allows businesses to automate operations, streamline processes and access real-time business information anytime, anywhere.