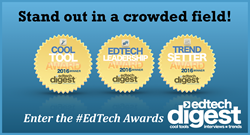 We're looking for products and people that represent effective, workable solutions for education, whether realized or potential.
Orlando, FL (PRWEB) September 19, 2016
The nomination period for the 7th annual EdTech Awards honoring cool tools, inspiring leaders, and innovative trendsetters in the education and technology, or "edtech" sector, is open for entries but will close on September 30, 2016.
Entry is quick and easy, and there is still time to enter.
The distinguished awards program features edtech's best and brightest products and people. Past winners include Discovery Education, zSpace, Scholastic, DreamBox, Nearpod, EdCast, Bloomz, WebAssign, FreshGrade, Languagenut, Edthena, Education Elements, Buncee, Curriculum Associates, and others.
This year's program features nearly 50 categories to enter, including best:

New Product or Service
Mobile Solution
Personalized Learning Solution
Academic Gaming Solution
Emerging Technology Solution
Professional Development Solution
Higher Education Learning Solution
Workforce Skills Solution
Product or Service Setting a Trend
Leader Setting a Trend
And more.
A distinguished panel of industry influencers and veterans will conduct this year's evaluation proceedings. "There's never been a more exciting time for teaching and learning," said Victor Rivero, who oversees the program as Editor-in-Chief of EdTech Digest.
"Technology is opening the door to a renaissance in education," said Rivero. "Sifting through to find the real gems of edtech, we're looking to inspire more of a good thing. There's a lot of talent and quality out there, and we look forward to showcasing it. We're looking for products and people that represent effective, workable solutions, whether realized or potential; established or startup, education leaders and solutions providers. A lot of our winners are setting the pace, or pioneering new areas, and doing big things. The stakes are high; these honorees are shaping our future."
The program is comprised of the Cool Tool, Trendsetter and Leadership Awards. All entries fall into a subcategory under one of these three main categories. Cool Tool awards recognize new, emerging and established technology solutions for education; the Trendsetter awards include notable people or products shaping the space, and the EdTech Leadership awards recognize outstanding forward-thinking contributions to learning and technology. "We're excited to have a closer look at the tools, trendsetters and leaders driving education forward," said Rivero.
A full list of last year's award finalists and winners can be found at http://www.edtechdigest.com.
There is still time to enter. For an entry form and full details, visit: https://edtechdigest.wordpress.com/etd-awards/2017-entry-form/
About the EdTech Awards Program
The EdTech Awards program honors products and people in and around education for outstanding contributions in transforming education through technology to enrich the lives of learners everywhere. Featuring edtech's best and brightest, the annual recognition program shines a spotlight on cool tools, inspiring leaders, and innovative trendsetters helping millions of students, teachers, parents, administrators and others in K-12, higher education, workforce training, and lifelong learning.
About EdTech Digest
EdTech Digest tells the story of 21st-century education transformation. A leading source of cool tools, in-depth interviews, notable trends, and voices from the education and technology field, the publication is dedicated to highlighting those making a difference for education with technology. http://www.edtechdigest.com