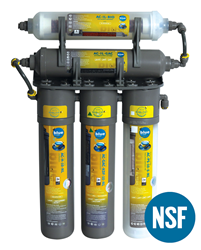 "The Elements Bluefilters UF 5 system has no equal in the industry and offers superior performance and reliability..."
Reedsburg, WI (PRWEB) October 04, 2016
Hankscraft, Inc. has earned certification to NSF/ANSI 42 and 53, American National Standards for drinking water treatment systems, for its Elements Bluefilters models UF-5-BF and UF-5-BF-NF from global public health organization NSF International. The systems are now certified to filter microbiologic impurities and remove undesired taste and odors.
Hankscraft Elements' Bluefilters UF 5 Ultra-filtration System has 5 stages of filtration, including a heavy duty sediment pre-filter, activated carbon/KDF filter, ultra-filtration cartridge, inline activated carbon filter, and a bio-ceramic resonator cartridge. The system works using existing household water pressure and is able to remove impurities such as inorganic chemicals, algae and other common contaminants down to .01 micron. It also effectively removes parasites such as Cyst, Cryptosporidium, Toxoplasma, Giardia, and Entamoeba. The UF 5 is easy to install and fits conveniently under the sink for continuous clean water throughout the home.
NSF International led the development of the American National Standards for all materials/products coming into contact with drinking water. Today, government agencies around the world utilize NSF International standards to verify the safety and performance of various types of water treatment devices, as well as other water contact products, like treatment chemicals, pipes and plumbing components, to ensure these products do not leach harmful levels of contaminants into drinking water.
To earn certification to NSF/ANSI 42 and 53: Drinking Water Treatment Units, Hankscraft's models were subject to rigorous testing, including material safety, structural integrity and evaluation of total dissolved solids (TDS) reduction. This standard was created to address the specific technologies and product specifications related to reverse osmosis systems.
"By achieving NSF certification to NSF/ANSI 42 and 53 for its reverse osmosis system, Hankscraft has proven its commitment to public health and safety," said Tina Yerkes, NSF International's General Manager of Global Filtration Products. "NSF International certification verifies that their models will not leach specific harmful contaminants into drinking water, are structurally sound and perform as claimed."
To see all contaminant reduction claims and Hankscraft's official NSF listing for this device, please visit their official NSF certification listing.
"Hankscraft is proud to earn NSF/ANSI 42 and 53 certification for our cutting-edge Elements Bluefilters UF 5 system and we are able to offer this product at a time when so many people need a reliable, high-performance under-sink filtration system to make their water safe to drink and use in the kitchen", says Bob Kappel, Director of Hankscraft H2O Products. "The Elements Bluefilters UF 5 system has no equal in the industry and offers superior performance and reliability for the average homeowner who questions the quality of the water from their faucet, but is troubled by the environmental impact and expense of buying bottled water. The Elements Bluefilters UF 5 system truly represents an economical, environmentally-friendly way to deliver clean, safe drinking water to you and your family."
For more information on the details and requirements of NSF certification, please visit NSF International's website.
About Hankscraft, Inc.: Founded in Madison, Wisconsin in 1920, Hankscraft Inc. is privately held with over 300 employees worldwide who, guided by their mission and values, provide customers around the world with a wide range of products and services through five distinct divisions.
Hankscraft launched the H2O Products Division in 2000 when the company began manufacturing softener valve motors for one of the largest water treatment companies in the world. In 2005, Hankscraft began providing replacement parts for these industry-standard valves, which quickly evolved into providing entire valves and systems in 2009. Today, the H2O Product Division offers a full line of water treatment systems, valves and replacement parts.
About NSF International: NSF International is a global independent organization that writes standards and protocols, and tests and certifies products for the food, water and consumer goods industries to minimize adverse health effects and protect the environment. Founded in 1944, NSF is a Pan American Health Organization/World Health Organization Collaborating Center on Food Safety, Water Quality and Indoor Environment.
The NSF Water Division provides testing, certification and auditing for municipal water treatment components and chemicals, plastic piping systems, plumbing fixtures and fittings, point-of-use and point-of-entry water systems and filters, and pool and spa equipment and chemicals. NSF international led the development of the American National Standards for all materials and products that treat or come in contact with drinking water to help protect public health and the environment and minimize adverse health effects.