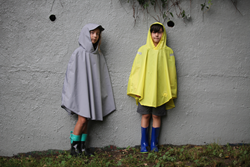 Designed in Providence, the colorful new ponchos offer the same attention to detail that has appeal to adult people around the world.
PROVIDENCE, Rhode Island (PRWEB) September 20, 2016
Cleverhood today confirmed reports that kids have been spotted playing in the rain. The outdoor activity, in inclement weather, was in fact a semi-controlled experiment by the Rhode Island Company with the distinctive outerwear. All kids were reported to be dry and happy.
The children were in fact sporting new Cleverkid rain capes. Designed in Providence and made in nearby Fall River, the colorful ponchos offer the same attention to detail that has appealed to adult people around the world. These Cleverhood rain capes are easy to operate and now enable everyone of various shapes and sizes to experience the rain first-hand.
Studies have shown that kids like going outdoors. It seems that the natural environment lends itself to playing of some form. It can begin spontaneously or as a reaction to the stimuli of other kids, pets, a swing, a bug or even a puddle. The new Cleverkids are designed to ensure that rain does not always mean it's time to come inside.
"Kids are natural pluviophiles (rain lovers) and we're hoping that our five years' experience will convince them we're serious about playing in the rain," said Susan Mocarski, Cleverhood founder and CEO. "We've explained to the kids that our capes are carefully crafted by experienced garment workers in nearby Fall River. That gets a good giggle, which tells us they appreciate our efforts."
Like all Cleverhood rain capes, the Cleverkids are unisex, reflective and great for walking, bike riding, or otherwise playing in the rain. They all come with a hood and a handy mesh bag for portability. There are currently two sizes for kids and three color styles. There's a blue Electric Gingham that has interwoven reflective thread. It's made from recycled poly. There is also the Devo Yellow and Cielo Blue that feature reflective accents, with Ripstop fabric.
Cleverhood's original line-up of US-made rainwear is used by people all over the world. The eponymously named Cleverhoods have a distinctive style and a number of special features like interwoven reflective thread, magnetic arm closures and thumploops for bike commuting – in the rain. Cleverhood has received recognition from Rhode Island Monthly, Forbes ("Best Holiday Gifts for Cyclists"), The Guardian, and Vice Magazine, which claimed we 'freaked' them out.
Based in Providence, Cleverhood LLC, is a small business that produces a special brand of outerwear that reflects an affirmation of American ingenuity, local places and solid reliability. Catch us on Instagram @Cleverhood on Twitter @cleverhoods, Facebook or Cleverhood.com.