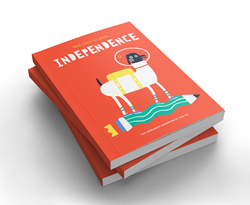 "Becoming independent is a daunting task for most people...the book's mission is to make it easy to turn freelance, so we wanted to write the guide we wished we had when we turned freelance for the first
NEW YORK, NY (PRWEB) September 19, 2016
Today, AND CO--the one-stop app for freelancers' administrative needs--published the definitive guide for freelancers, Welcome to Your Independence.
"Welcome to Your Independence compiles the knowledge gleaned from working with thousands of freelancers," explains WTYI Editor and AND CO Lead Chief Operator Amanda Spinelli. "No two stories are exactly alike. The one common thread in each case is that every freelancer knows they want to go freelance and knows the reasons propelling them in that direction. But it's hard to align those reasons with the exact steps to take to get there. And that's where the inspiration for this book really came from." The book came to fruition thanks to Spinelli's diligent efforts and a team of writers with first-hand freelance experience.
Welcome to Your Independence is the latest offering from AND CO to enhance freelancers' professions. "Becoming independent is a daunting task for most people," AND CO co-founder Leif Abraham explains. "AND CO and the book's mission is to make it easy to turn freelance, so we wanted to write the guide we wished we had when we turned freelance for the first time."
Welcome to Your Independence is now available for free download. To learn more about AND CO, visit http://www.and.co or the Apple Store, or follow AND CO on Twitter. AND CO is one of the latest product to emerge from Prehype, the incubator behind BarkBox and Managed by Q. AND CO recently completed a $2M seed round, led by Thrive Capital.
AND CO:
285 West Broadway, Suite 430
New York, NY 10013
http://www.and.co
Media Contact
Andrew Ward
917 719 5534
andrew(at)andco(dot)ny