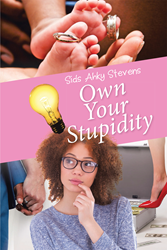 I want women to know they are not defined by their past and the mistakes they've made.
BROOKLYN, New York (PRWEB) September 16, 2016
Mistakes and shortcomings are part of life, and the past should not define how we perceive ourselves in the present. One author is working to empower women to reach their full potential.
In her book "Own Your Stupidity", Sids Ahky Stevens examines the formative and traumatic experiences that shaped her life, from growing up in a single-parent household to losing a child to SIDS. Stevens says that by owning her truth, she has been able to embrace mindfulness, accept herself and become more thankful for her family and friends.
"I want women to know they are not defined by their past and the mistakes they've made," Stevens said. "If they need support, there are communities and people out there who can help them get through whatever they may be struggling with."
Although Stevens' writing began as a journal, she published "Own Your Stupidity" after the encouragement of those who had been touched by her story and advice.
"I hope my story can continue to provide comfort and hope to someone suffering through a hard time, whether it's the loss of a child to SIDS or the death of a family member. It does get better. No matter the situation, you can overcome your circumstances and get educated, serve your community, and have a family. You are not owned by your past," Stevens said.
For more information, visit http://bookstore.xlibris.com/Products/SKU-001073080/Own-Your-Stupidity.aspx
Own Your Stupidity
Sids Ahky Stevens
ISBN: 978-1-5144-7227-9
Available in softcover, hardcover, e-book
Available on Amazon, Barnes & Noble and Xlibris
About the author
Sids Ahky Stevens lives in Brooklyn, N.Y., with her husband and daughter. She holds a master's degree in education and enjoys cooking.
For review copies or interview requests, contact:
Craig Cainkar
(317) 602-7137
ccainkar(at)bohlsengroup.com