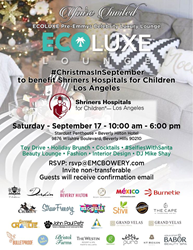 Los Angeles, CA (PRWEB) September 16, 2016
Created by TV/Film producer Debbie Durkin, EcoLuxe Lounge is a luxury experience connecting brands and charities with celebrities, media and industry VIP's. The Lounge (invite only) will be held on Saturday, September 17th from 10:00 am – 6:00 pm at The Beverly Hilton, Beverly Hills CA
Shriners Hospitals for Children – Los Angeles now for the second year is EcoLuxe Lounge official charity partner! For over 60 years, Shriners Hospitals for Children – Los Angeles has transformed the lives of thousands of children in Southern California and across the Southwest. Construction of the new Shriners for Children Medical Center in Pasadena, California, is nearing an end. With substantial completion of the 75,000 square foot building and expansive courtyard expected in January 2017, the new medical center is filling-out and taking shape. Recent construction-related milestones include activation of permanent power in the building, removal of the construction team's office trailer from the site, and preparation of the area in front of the building for the circular driveway, rose plaza and garden, children's pavilion, and courtyard.
Marius Woodward National and Los Angeles Patient ambassador of Shriners Hospitals for Children will also be there to greet event guests. Marius began treatment at Shriners Hospitals for Children – Los Angeles when he was 8 years old, and underwent many surgeries, including a toe-to-hand transfer. Marius is believed to be the first in the world to have a transfer of this type involving six toes. Today, Marius is an active 17-year old high school student who, despite having only two toes and six new fingers, is able to play football and soccer, and demonstrates that his scars make him who he is and to encourage acceptance, despite outward appearance. Click here to see Marius's complete story
http://www.shrinershospitalsforchildren.org/en/Media-resources
In addition to invited celebrities and VIP's, guests to include Mr. and Mrs. Clause (selfies with Santa) along with Mike Shay of Vanderpump Rules as the event's DJ. The lounge space in the Beverly Hilton will also feature Burnetie, MEXICO (visitmexico.com), Rejoy Interiors, Chariot, Strawfree.org, moguls, STIVII, Immuno gum, The Cape, Connect Arlie, John Paul Pet, UVI, Gran Velas, Bulletproff, Bristol Farms, The Westin, Pure, Sal Sistas, St Regin, and Babor Beauty Spa.
ECOLUXE attendees are asked to bring an unwrapped toy which will be donated to the hospital patients. Given the continuous need for toys throughout the year, if you're interested in donating a new toy(s), please contact the Donor Development Department at 213.368.3316. All donations are greatly appreciated.
Shriners Hospitals for Children® - Los Angeles is a specialty hospital for orthopaedic conditions, prosthetics and orthotics, hand disorders, burn scars, and cleft lip and palate. We provide world-class care to children under 18 regardless of the families' ability to pay.
Shriners Hospitals for Children is a 501 © (3) nonprofit organization and relies on the generosity of donors.
All donations are tax deductible to the fullest extent permitted by laws. For more information, please visit the hospital website at SHCLA.org.
EcoLuxe Lounge is produced by Durkin Entertainment Group, led by Debbie Durkin, who is LA's leading sustainable creative TV/Film Product Placement and premiere socially-conscious Celebrity events producer, connecting cause/luxury brands to celebrities and media. http://www.durkinentertainmentgroup.com @producerdeb
#####