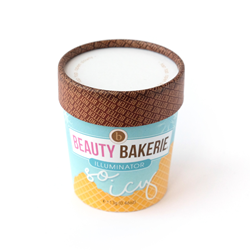 CEO and Founder Cashmere Nicole is the mastermind behind the design
(PRWEB) September 19, 2016
During a time where the notion of highlighting the face for an added glow has become a popular technique in the application of makeup, Beauty Bakerie will be launching their very own strobing line called the So Icy Illuminators. The San Diego, California-based cosmetic brand announced via their Neapolitan Newsletter that they will release their So Icy Illuminators this October.
If Beauty Bakerie's current products already sound mouth-watering, the packaging for the So Icy Illuminators will have anyone craving ice cream! CEO and Founder Cashmere Nicole is the mastermind behind the design of the So Icy Illuminator collection. With innovation implemented in the formulary of her other lines, she took elements of one of her favorite go-to treats as inspiration for an ice cream pint meets makeup appeal.
The So Icy Illuminator pints will be filled with 13 grams of loose product, and will range from five different pigments.
A best practice for the So Icy Illuminator is to pair it with one of Beauty Bakerie's infamous smudge-free Lip Whips. Since "what is strobing?" isn't the question anymore, here's a technique you'll want to remember, the next time you strobe!
Apply Beauty Bakerie's So Icy Illuminator on the cupids bow with your finger tips or a fan brush. This will allow for a light glow above the lips, and adds for an elegant touch. Once the so Icy Illuminator is applied to the cupids bow, layer a thin coat of one of Beauty Bakerie's Lip Whips on to the lips. Voilà!
Beauty Bakerie fanatics can expect the So Icy Illuminator collection on BeautyBakerie.com late September.
About Beauty Bakerie: Beauty Bakerie Cosmetics Brand is a cruelty-free cosmetics brand located in the heart of downtown San Diego, California and was founded in 2011 by Indiana native, Cashmere Nicole. Beauty Bakerie is best known for their smudge-free and long wear products, as well as being Beyoncé approved. For more information, contact Beauty Bakerie at info(at)beautybakerie(dot)com.