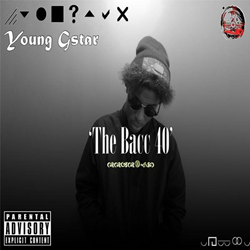 London, U.K. (PRWEB) September 16, 2016
Today Coast 2 Coast Mixtapes announces the release of "The Bacc 40", the latest mixtape by U.K. Hip-Hop artist Young Gstar. The Mixtape is currently available for streaming and download at the Coast 2 Coast Mixtapes website.
Young Gstar, G10 & BLZRS Ent. present 'The Bacc 40' heavily trap influenced yet still diverse in sound and delivery. 'The Bacc 40' explores a more wild, raw & uncut sound from Gstar than seen before. With production from mjNichols, Taz Taylor, KevinKBeats & many more talented individuals. This mixtape is sure to impress. Welcome to The Bacc 40. The mixtape features 16 tracks, including those below:
1. Payday (Prod. mjNichols)
2. The Bacc 40 Intro (feat. Yz)(Prod. Taz Taylor x MayeniacBeats)
3. Fly (Prod. The Cratez)
4. Please (Bills) (Prod. XaviorJordan)
5. Not Us (feat. Kevin K)(Prod. KevinKBeats)
6. TREVON AHTON - Fuck (feat. Young Gstar)(Prod. ICYTWAT)
7. Juss Copped (Prod. mjNichols)
8. Pull Up (Prod. mjNichols)
9. Say (Prod. Taz Taylor)
10. UDontWantIt (The Man)(Prod. mjNichols)
11. The Kid (Prod. mjNichols)
12. Hood Money (Prod. mjNichols x RicandThadeus)
13. Lately (feat. Kevin K)(Prod. KevinKBeats)
14. 23 (Prod. mjNichols)
15. Young Sizzle - Sandman (Remix)(feat. Young Gstar)(Prod. Metro Boomin)
16. No Questions Freestyle (Prod. DT Hitz)(Bonus Track)
Young Gstar is currently seeking press opportunities, interviews, features, and more. He can be reached through his official Twitter page.
About Young Gstar: Only 17, Young Gstar is starting to make an impression and also a rise in the music industry. His unique style really embodies his wild, rebellious nature & really expresses that he will be a strong voice of the youth. While being able to exhibit a more mellow style for example last years release of his, 'Vibez' he definitely knows how to bring out a more raw and uncut side to him on The Bacc 40. which adds to his versatility. He is a member of the music group G10 Music created by his colleague and close friend Yz which is also home to other artists such as J3 from Las Vegas. He also sports his own movement, group and brand; BLZRS (pronounced Blazers) which consists of a team of close friends who support and follow him. And for all the latest music by Young Gstar, be sure to check out his official Soundcloud page.
About Coast 2 Coast Mixtapes: Coast 2 Coast Mixtapes are the most widely distributed mixtapes in the world, with over 100 million downloads/plays generated by over 300 volumes officially hosted by major artists. Coast 2 Coast has a solid reach in the new music industry with a digital magazine, DJ coalition, industry tips blog, yearly convention, and more. Coast 2 Coast Mixtapes represents a unique opportunity for artists of all urban genres, from major to indie. For more information, visit http://www.coast2coastmixtapes.com.