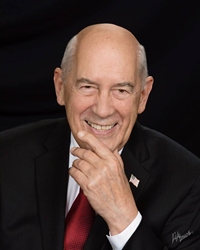 This technology works across the entire sports spectrum from high schools to professional leagues. StriveCast is an extraordinarily affordable product with exceptionally high quality that will benefit this industry.
Jersey City, NJ (PRWEB) September 20, 2016
In today's fast evolving landscape of how live sports content is broadcast and consumed, StriveCast.TV gets a whopping YES from ESPN Founder, Bill Rasmussen. A broadcasting industry pioneer with an unending enthusiasm for everything sports, Bill has joined StriveCast.TV as a member of the Advisory Board, to help guide its growth in amateur and semi-professional sports markets globally.
StriveCast.TV is a cloud-based video production and live streaming platform that enables high quality broadcasting of events in an easy Do-It-Yourself model. With a full-featured production workflow, StriveCast.TV ensures that every event gets high quality video coverage, until now seen only in mass media television broadcasts.
"Earlier this year, when Rajiv Sohal, CEO of Seastar Labs, showed me a demo of his new technology, I saw an immediate application for my grandson's basketball team. This system will benefit millions of parents, grandparents, alumni and fans of both high school and other sports teams around the globe. Having worked with Rajiv before, I knew this product would be top notch, and I readily agreed to come on board as an advisor," notes Bill Rasmussen, ESPN Founder.
Bill's passion for sports and broadcasting is shared by Dr. Manoj Aggarwal, the co-founder and CTO of Seastar Labs, the company behind StriveCast.TV. Manoj's keen desire to make quality sports coverage affordable in largely untapped local and hyperlocal markets has been a key driving factor behind this initiative.
"StriveCast.TV offers 95% of the quality of a professional broadcast at 10% of the cost," said Dr. Manoj Agarwal, Co-Founder and CTO, Seastar Labs
In an era where viewers have a constant hunger for immersive content, StriveCast.TV is reinventing how we consume and interact with live broadcasts. Whether it is personalizing your view of the game, integrating live social media content, creating custom player highlight reels or video analysis for training, StriveCast.TV can do it all.
So what does this mean to the broadcasting industry? The exponential growth of Over-The-Top viewership via web and mobile, has created a shortage of live video content. StriveCast.TV, with its high production quality, operational scalability and low costs, can help fill this void by making hyperlocal content both monetizable and affordable.
ABOUT SEASTAR LABS
Seastar Labs is a specialist in computer vision and highly scalable, cloud-based live video processing technologies. Applications include sports broadcasting, video production, analytics and surveillance. With leading industry experts at its helm, Seastar Labs has created a vast IP portfolio that serves as a foundation for StriveCast.TV, among other revolutionary products.