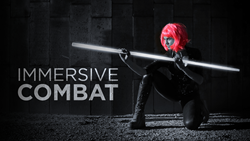 San Francisco, California (PRWEB) September 16, 2016
Spherica VR production studio's "Immersive Combat" has been chosen as an official selection at the second annual Festival of International Virtual and Augmented Reality Stories (FIVARS) in Toronto, Canada from Sept. 16-18th. "Immersive Combat" is a project of truly epic scale and unrivaled complexity: the first VR series shot with a revolutionary, fully stabilized, moving 360 camera that creates a perfect user experience. The series immerses the viewers in the heart of combat as Kung Fu, Muay Thai and Medieval Combat world champions battle it out in the worlds of Vikings and pirates, steampunk and cyberpunk. During the festival, "Immersive Combat" will be shown along with 27 other innovative VR stories from around the world across 6,000 square feet of unique installations. FIVARS is the world's first Augmented Reality Stories Festival and has been declared by the media as a must-see VR event.
Spherica's showcase at FIVARS follows on the heels of its three-day presentation at TechCrunch Disrupt SF 2016. At TechCrunch, a premier exhibition for revolutionary startups, Spherica discussed not only its live-action VR films, but also its revolutionary stabilization technology, which creates more engaging VR storytelling while providing a perfect user experience.
Spherica's innovative proprietary technology brings smooth camera movement to VR filmmaking to create never-before-seen, 360-degree stabilized footage from a moving camera that is mounted on a drone or rover. The hardware has the potential to immerse the viewer in the film to a degree impossible with the industry-standard static mount. Road to VR, one of the industry's leading publications, detailed the impact Spherica's hardware could have on VR filmmaking. "Ultimately, such effective stabilization could mean more camera mobility for VR film directors who have had to try to adapt to totally static camera placements." Engadget, a leading consumer electronics and gadgets web magazine detailed how "Spherica creates nausea-free immersive video." This increased mobility created by the hardware-stabilized rig, coupled with the natural and more comfortable user experience the hardware also provides, enables the VR filmmaking industry to bring cinematic VR storytelling to the next level of audience engagement.
About Spherica:
Spherica is an independent VR production studio based in San Francisco. Founded by a small team of VR enthusiasts, Spherica aims to push the boundaries of cinematic VR and show the potential of virtual reality filmmaking when it is unrestricted by the limitations of static 360 cameras. Spherica's unique 360 filming technology has been tried and tested in multiple VR projects, as well as produced in collaboration with industry leaders, including the Associated Press and HuffPost RYOT. The VR film "Artist of Skid Row", produced by RYOT and Spherica, premiered at the 2016 Tribeca Film Festival. The list of Spherica's partners is growing every day and includes some of the world's leading studios.