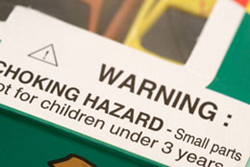 Baby Safety Month is a perfect time to reassess and make sure a product line is properly packaged, and Lightning Labels is ready to assist with this process
Denver, CO. (PRWEB) September 20, 2016
Important Safety Directions Imparted by Stickers
September is Baby Safety Month, a time to make sure people and companies are doing everything in their power to keep infants and toddlers safe. Businesses that sell potentially risky products should use this month as a reminder and chance to check every item's packaging and labels. Maybe there is a chance to add safety labels. Parents who see the revised labels will take extra steps to keep the products away from their children, and if even one dangerous situation is prevented, the new label will have been worth it.
Custom Safety Labels: Above and Beyond Regulations
Some products are regulated by labeling rules. Toxic chemicals or other potentially harmful objects must be marked, and doing so is absolutely required. Once those needs are taken care of, companies can go beyond the minimums stipulated in the laws and create additional warnings where relevant. Parents of young children are eager to keep their kids safe, and they will appreciate that the company is interested in avoiding dangerous situations. This may lead to increased brand loyalty.
The best materials for childproof labels are strong enough to endure for a long time and stay in place after strenuous use. These warnings cannot fade over time, because their warnings and directions will always be relevant. Working with a provider such as Lightning Labels is a great way for companies to ensure they have the toughest and brightest safety labels possible. With a variety of materials available and a state of the art printing process, Lightning Labels is a great partner for safety-conscious manufacturers and retailers.
"It's great to see businesses not only meeting labeling requirements but going beyond them to give important safety information to their customers," said Lightning Labels' Director of Business Development, AnneMarie Campbell. "Baby Safety Month is a perfect time to reassess and make sure a product line is properly packaged, and Lightning Labels is ready to assist with this process."
It's Time to Make a Change
There's no need to wait any longer - when it's time to add new child-proof labels to products, Lightning Labels can assist right away. It's all-digital printing process takes a matter of days, not weeks or months. This means before Baby Safety Month has passed, improved safety labels can be on shelves, giving parents easy access to important info that can keep their little ones safe. Meeting industry requirements is vital, but going beyond the standard can earn the gratitude and trust of anyone with a child to care for.
About Lightning Labels:
Lightning Labels uses state-of-the-art printing technology to provide affordable, full-color custom labels and custom stickers of all shapes and sizes. From small orders for individuals to the bulk needs of big businesses, Lightning Labels is equipped to handle and fulfill custom label and sticker projects of all types. Best of all, like the name implies, Lightning Labels provides a quick turnaround for every customer's labeling needs. Uses for Lightning Labels' custom product labels and custom stickers include food packaging and organic food labels, wine and beverage labels, bath and body labels, and nutraceutical products, such as vitamins, essentials oils, and herbal remedies, as well as event stickers, adhesive window stickers and more. Lightning Labels strongly supports the development of environmentally friendly printing materials and carries EarthFirst PLA, a new kind of green label material made from corn instead of petroleum. While operating as a high-tech printer, Lightning Labels prides itself on its personalized customer service. Lightning Labels provides one stop shopping for all of your custom label needs. For more information and to place orders online, visit LightningLabels.com. For the latest in packaging news and labeling promotional offers, find Lightning Labels on Twitter (@LightningLabels), Facebook, Pinterest, Google+ and LinkedIn.