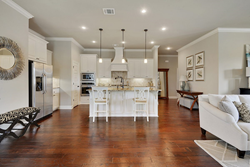 Level Homes is proud to offer new homes in a community where homeowners can live life to the fullest. Central is a great community with a small-town setting and a peaceful feel – Todd Waguespack, Managing Partner, Level Homes
Baton Rouge, La. (PRWEB) September 20, 2016
Level Homes, an award-winning, Top 200 homebuilder based in Baton Rouge, La., has purchased 36 lots in Twin Lakes Estates.
This desirable new home community in Central, La., is located near top-rated schools, major employers and some of the best shopping and dining in the area.
"Level Homes is proud to offer new homes in a community where homeowners can live life to the fullest," said Todd Waguespack, managing partner of Level Homes. "With the quality of homes that we build, homeowners will enjoy a beautiful home in an outstanding community in an unmatched setting."
Level Homes purchased the third phase of the community, which will include 35 lots, as well as a single lot in the first phase of the community.
Homebuyers in Twin Lakes Estates can choose from 15 floor plans that range from 1,860 sq. ft. to 3,210 sq. ft. Homes range from three bedrooms and 2.5 bathrooms to five bedrooms and 3.5 bathrooms. Thirteen lake lots are available and most homesites are an expansive 80 feet wide.
Known as "A Community That Cares," Central offers homebuyers more than a great location. The Central Community School System is ranked among the best in the state and earned a rating of 9.0 on a scale of ten from GreatSchools.org.
Schools near Twin Lakes Estates include Bellingrath Hills (Pre-K to kindergarten), Tanglewood (Grades 1-2), Central Intermediate (Grades 3-5), Central Middle (Grades 6-8) and Central High School (Grades 9-12).
Central is a vibrant, growing community with picturesque neighborhoods and parks. The neighborhood offers residents a peaceful and serene setting with 12 acres of green space to enjoy and a lake stocked with bass and sac-au-lait.
Many local events provide entertainment for the whole family to enjoy — including the Cooking in Central Festival, which celebrates local cuisine and raises funds for local charities. Opportunities for outdoor activities are abundant and close at hand, including cycling, fishing and hunting.
According to Waguespack, it's an honor to be building in Central. "There are many reputable small builders in Central and Level Homes counts itself lucky to build alongside them," he said. "Central is a great community with a small-town setting that creates a peaceful environment for residents."
"We're happy to be back in Central and looking forward to working with the developer, Jim Clark," Waguespack added.
Founded in 2000, Level Homes builds in several prime locations in Louisiana and also in the Raleigh, N.C., area. In 2015, Level Homes was named by Builder Magazine as one of the Top 200 builders in the United States and the fastest growing Next 100 builder in the nation. Level Homes has also been named one of the Best Small-to-Midsized Places to Work in Baton Rouge by Business Report magazine.
Visit http://www.levelhomeslifestyle.com/ to learn more about Level Homes, its award-winning new homes and communities and the firm's unique approach to building "Life. Style. Home."