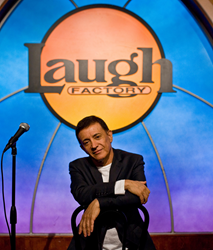 (PRWEB) September 19, 2016
The Laugh Factory Funniest Person in the World biennial competition – inaugurated to seek diplomatic alternatives to war and aggression – will be held from December 4th through the 10th 2016 in Finland, and it is already outpacing its previous incarnation in number of entrants and in number of participating viewers. Within the first week of voting, the competition has already garnered over 9 million views from all over the world.
"This astonishing number highlights the hunger that people all over the globe have for the alternatives to aggression," says Jamie Masada, the Founding Owner of the Hollywood based franchise, "and it further shows that laughter and our ability to poke fun at difference can be more powerful than tanks or missiles when discussing avenues to peace."
When U2's lead singer Bono appeared before Congress in April 2016, he suggested that perhaps "comedy should be deployed "in the fight against ISIS." He elaborated, "it's like, you speak violence, you speak their language. But you laugh at them, when they're goose-stepping down the street… it takes away their power."
During the 2014 event, comedians from 32 countries participated and enlightened the audience - and each other - about their individual cultures and the ways people can laugh at similarities as well as differences. This year, comedians from 56 different countries are involved hoping to make the world laugh and inspire a movement toward peace.
The City of Helsinki will host the week long competition and comedy festival, which will include a gala opening parade, different stages for holding the semi-finals and a Final Show streamed live worldwide. The Grand Prize winner will receive the Festival's Trophy and a check for $100,000 USD. The two runners-up will receive awards of $10,000 USD and $5,000 USD and each of the 20 finalists will receive $1,000 USD. Laugh Factory's portion of any profits will be donated to the International Peace Institute and to Feed the Children.
The 2014 winner of the competition, Ismo states, "When I heard I won, I thought I was dreaming. I could not ever imagine in my dreams that it would happen but in a split second it did. Being named funniest person in the world was the greatest honor of my life."
Masada believes that "Laughter brings people closer, succeeding where diplomacy and democracy have failed. It is a universal language. This event highlights an alternative ambassador – the kind that brings diplomacy through a belly laugh."
"We Finns like to connect people," says Mr. Juha P. Markkanen, Finland's Counsel General in Los Angeles, "building bridges between various countries and nations through smiles and laughter is a very positive way to accomplish something that is unique and great."
For your review, the contest site can be viewed at http://www.laughfactory.com/fpiw
The contestants are available for interviews. Please contact patrick(at)laughfactory(dot)com and ashley(at)laughfactory(dot)com for their information.