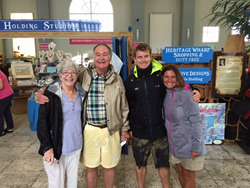 If you are an individual, fight your mesothelioma like an individual.
Raleigh, NC (PRWEB) September 19, 2016
Jim McHutchison of York, Maine was told he had less than a year to live when he was diagnosed with rare malignant pleural mesothelioma in 2013. But in a recent interview with Surviving Mesothelioma, McHutchison says his refusal to accept that prognosis has kept him alive. Click here to read the full story.
In the first six months after McHutchison's diagnosis, he and his wife, Pepper, visited more than 50 different mesothelioma doctors from Maine to Maryland, including some of the nation's most prestigious cancer centers, searching for someone who could offer them a glimmer of hope.
"The doctors say I have this disease and there is not much that they can do for me, but they don't know me," says McHutchison. "If you are an individual, fight your mesothelioma like an individual. You are not a statistic."
The McHutchisons finally found an oncologist who agreed to administer Keytruda (pembrolizumab), an immunotherapy drug that has produced promising results in some mesothelioma patients.
"Jim's story of tenacity and positivity in the face of this devastating diagnosis is an inspiration to us and we think that it will be for other mesothelioma patients and their families, as well," says Alex Strauss, Managing Editor of Surviving Mesothelioma.
To read about the McHutchison's experience, including Jim's results on Keytruda, see Maine Man Surviving Mesothelioma with Tenacity and Keytruda, now available on the Surviving Mesothelioma website.
For nearly ten years, Surviving Mesothelioma has brought readers the most important and ground-breaking news on the causes, diagnosis and treatment of mesothelioma. All Surviving Mesothelioma news is gathered and reported directly from the peer-reviewed medical literature. Written for patients and their loved ones, Surviving Mesothelioma news helps families make more informed decisions.