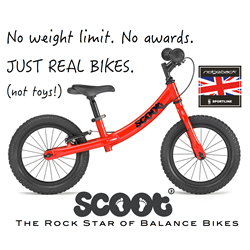 "For the cost of stocking a few high-end adult bikes, a shop can fill their showroom with our entire collection of premium balance bikes, and our new dealer map will drive customers there."
San Diego, California (PRWEB) September 20, 2016
After 10 years of building a successful online destination for parents seeking quality balance bikes, and recently relocating operations to San Diego, WeeBikeShop begins appointing new Independent Dealers at the 2016 InterBike Trade Show in Las Vegas. The company seeks to expand distribution of several highly acclaimed bike brands, due to feedback from customers and heightened demand to see the Ridgeback and Yedoo brands in local IBD showrooms.
According to WeeBikeShop founder Ivan M Altinbasak, "We understood very early that the millions of parents over-spending every year on the best cribs, high chairs and strollers, and are also seeking the best products to introduce their toddlers to riding a bike. It's clear that skimping on the cost and quality of Bike #1 is not compatible with their previous buying habits. As long as shops provide real bikes that use industry standard components and correctly perform like a real bike, parents are willing to spend more money to enhance the success of their child's first cycling experience."
Price points range from $160 for the award winning Yedoo TooToo, to $300 for the top shelf Ridgeback Dimension 12" and 14". The Dimension brand also includes matching pedal bikes in 16", 20" and 24" wheel sizes to complete the range and encourage brand loyalty. In between are the top selling Ridgeback Scoot and Scoot XL, which have MSRP of $180 and $200. WeeBikeShop will offer most of the 28 balance bike collection to dealers at keystone price points with a relatively small buy-in.
"Lack of selection is the most dominant feedback we receive from frustrated customers who went to their local bike shop and found only a couple of low end models. For the cost of stocking a few high-end adult bikes, a shop can fill their showroom with our entire collection of premium balance bikes, and our new dealer map will drive them there", says Ivan Altinbasak adding: "Low-end balance bikes only attract cost-sensitive customers with a low awareness of cycling culture. Our products defeat this issue and enhance showroom traffic. A rising tide lifts all ships."
High performance cycles for kids age 7-10 are also being introduced at WeeBikeShop's Interbike Booth (#8261). Genesis UK models with 26" wheels for cyclocross, track and road racing will be on display for the shops interested in attracting parents with children demonstrating natural talent and a determination to compete. Retail prices will range from $600 to $850.
WeeBikeShop also introduces a uniquely European product: high performance scooters for adults by YEDOO (Czech Republic). Adult scooters glide silently and swiftly with their high quality wheels and tires. WeeBikeShop is introducing the RED DOT Award winning "Wolfer" by YEDOO Scooters and Bikes, along with four other models similarly equipped with lightweight alloy frames and components. Actor/scooter enthusiast Holland MacFallister has recently been appointed Brand Ambassador for YEDOO Scooters and Bikes, presented by WeeBikeShop. Holland will be present at WeeBikeShop Booth 8261 to meet with fans of his television shows and movies, and to talk about the merits of adult scootering as an enjoyable alternative form of transportation and exercise.
About WeeBikeShop LLC:
WeeBikeShop LLC has been engaged in the import and distribution of high quality balance bikes since 2007. Focus has been primarily on premium brands that offer products compatible with bike industry safety protocols, and with a proven record of success and popularity in Europe. WeeBikeShop LLC is the exclusive US importer and distributor of Ridgeback Bikes UK, Yedoo Scooters and Balance Bikes, Genesis Bikes UK and Saracen Bikes UK.