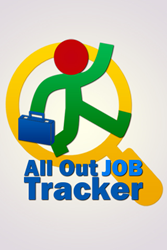 The app that finally puts you in charge of your job search!
Freeport, N.Y. (PRWEB) September 20, 2016
Don't tell Targeted Personal Solutions the app market is 100% youth oriented. The Freeport, NY-based software company just launched its first app AllOutJobTracker.
The app, which help job seekers simplify and better manage the job search process, wouldn't have gotten off the ground without the help of Irving Blitz.
Never Too Old to Be a Problem Solver
Irving Blitz takes a special pride in developing something to reach out to a younger generation to help them get ahead in a highly competitive job market.
Oh, by the way, Irving is 83 and is a grandfather of four.
Teaming up with daughter, Mindy Cacciatore, Irving helped outline the basic features of AllOutJobTracker. His goal: help young people who struggle with job hunting the way he once did.
Knowing that job hunting is hectic and chaotic – and not something anyone enjoys, Irving knew that there's a tendency to jot down important information anywhere at hand.
Backs of envelopes, scraps of paper, takeout menus, pizza boxes and so on. To Mindy, notes would have added to random files on many different programs.
No More Phone Numbers Lost on Pizza Boxes
AllOutJobTracker enables a user to keep track of jobs, interviews and phone calls and all the important basic information a job hunter needs to retrieve quickly.
With the app's easy to use interface, a person can have their entire record of their job search at their fingertips, updating information quickly and simply.
Putting their heads together, Irving and Mindy created an app.
All-at-Once, At-A-Glance Information
A simple touch of the AllOutJobTracker's screen lets the user access and add information as it happens in real time, all-at-once, at-a-glance, anytime, anywhere. No more details that fall through the cracks. No more lost phone numbers or forgotten names.
AllOutJobTracker is available now for Android devices on Google Play. Its website is http://www.alloutjobtracker.com
"People looking for work have enough stress," states Irving Blitz, who developed the software. "AllOutJobTracker aims to help the job seeker by centralizing information and making it instantly accessible and updateable."
Targeted Personal Solutions, Freeport, NY, is an innovative software development team dedicated to simplifying unavoidable everyday tasks with programs and apps that make life easier. It is committed to finding simple -- and affordable -- solutions that take care of the details that fall through the cracks.