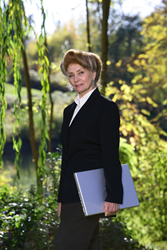 Grants Pass, OR (PRWEB) September 19, 2016
Water Life Science® advocate Sharon Kleyne, host of The Sharon Kleyne Hour Power of Water radio program, welcomed as her radio guest Certified Geothermal Designer, Joe Egg, the world's foremost authority on geothermal energy. On Kleyne's September 12th program, the pair discussed geothermal energy's impact on the evaporation of earth's (and the body's) water vapor.
Kleyne, also the founder of Bio-Logic Aqua® Research Water Life Science®, challenged her listeners to consider that water research should be the number one focus for all current and future infrastructure. 'Water," Kleyne said, "is also the number one investment in the world today." According to Kleyne, this makes sense because all of our organs, our skin, blood and bones are mostly water. The eyes are 99% water; the brain is 80-85% water; the liver is 80% water; blood is 50% water; bones are 20% water, and so on. All of us begin life in a water environment—a mother's water-womb. When we emerge from that womb, the water vapor in the atmosphere keeps us alive.
Yet, we also become a sieve unto death. "Remember the word: EVAPORATION," Kleyne cautions. Hope doesn't keep us alive; the atmospheric water vapor does that. "The surface of the eye and the rest of the body must be supplemented every day—and even several times a day—to counteract evaporation of the water vapor," said Kleyne. "That's why I supplement the water vapor of my eyes and skin with Nature's Tears® EyeMist®. It is the first remedy of its kind to gain access into the medical field after being test-marketed in 70 thousand stores. It is the only remedy without chemicals and additives for the successful treatment of allergies and Dry Eye Disease. Other products actually promote evaporation rather than reverse it."
Jay Egg couldn't agree more. Egg, a popular author who has written textbooks, books for children and mainstream books on geothermal energy (all available at Amazon.com), became interested in his favorite subject when he left the Navy, where he served as a nuclear power electrician. Egg was then living in Florida, which he realized he could not do without air conditioning. This fact, and Egg's desire not to deplete earth's water aquifer with traditional air conditioning and heating, led to his research into greener energy alternatives. In geothermal energy, Egg found a process that cycles heat from the earth as cooling and heating energy. The process proved to have great conservation benefits, which the government began to acknowledge in the 1980s with generous tax breaks. Since then, most new schools and government buildings have been quietly built with geothermal heating and cooling systems. "Not surprisingly, perhaps," said Egg, "Sweden leads the way internationally in geothermal design and adaptation. In the U.S, New York, Indiana and Oklahoma have jumped out front in the race to upgrade with geothermal energy systems." As the program drew to a close, Egg pointed out an additional benefit of geothermal energy: "When you heat and cool with geothermal systems," Egg said, "you also significantly conserve water."
Kleyne also pointed out that though water in geothermal technology does not return directly to the atmospheric water vapor, the water does filter down into the ground, replenishing the tender yet equally essential water aquifer. "Slowing down the water evaporation process," she said, "is what it's all about. If you do, you'll live longer and be healthier. Water is the key," said Kleyne.