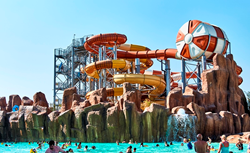 The Land of Legends,Antalya,Turkey
Turkey (PRWEB) September 21, 2016
Polin Waterparks is proud and honored to be the waterpark supplier for the new world-class Land of Legends Theme Park in Antalya, Turkey. The entertainment facility features a long and varied list of attractions - from a five-star hotel to a dolphinarium, a wildlife park and a very promising waterpark. The waterpark part of the project is called "Legends of Aqua."
Developers of the project are a collaboration between Rixos World Parks & Entertainment (Serik, Turkey), Emaar Real Estate (Dubai, U.A.E.) and global cultural creativity brand Dragone Productions (La Louvière, Belgium). Multidisciplinary design firm founder Jack Rouse was in charge of developing specialized zones for the facility and oversaw its master planning, concept and schematic designs. Polin Waterparks delivered a wide assortment of waterslides, in addition to a water playground, a spray zone, wave and river systems, a SurfStream®, a Wave Ball and an entire hydromechanical sytem, including water circulation and filtration to the park.
A world-class destination
The US$1 billion facility opened its first phase July 1 with a giant wave pool at its center, acting as the heart of the park. The park already has been dubbed a "world-class destination" by inaugural guests. That description is easy to understand when you consider that the developers combined not only entertainment and adventure but also education, nature, retail, shopping, luxury housing and theater to create the varied attractions.
The family-friendly facility - designed with a Roman Empire/Greek Poseidon theme - is strategically located in a picturesque setting between the Taurus Mountains and the Mediterranean Sea. Covering 639,000 square meters (6,878,139 square feet), Land of Legends includes a 196,000-square-meter (2,109,726-square-feet) shopping boulevard; a luxurious 17,000-square-meter (182,986-square-foot) five-star hotel; a 146,000-square-meter (1,571,531-square-feet) wildlife park; and a viewing terrace that reaches 111 meters (364 feet) in height. Clearly, however, the size of the waterpark - 280,000 square meters (3,013,895 square feet) - proves its starring role. But it's not just the dimensions that grab your attention; it's the sheer number and variety of attractions: 72 waterslides plus many additional aquatic attractions.
Dr. Kubilay Alpdogan, the Director of Sales and Design for Polin Waterparks, says Polin considers the project to be a pinnacle of its achievements for 2016. "It's truly our 'project of the year,'" he says. "No other waterpark has been built to rival Land of Legends - at least not in the EMEA (Europe, Middle East and Africa) region of the world. It was a huge project - and one of which we are immensely proud. It's truly a new opportunity for families to enjoy time together."
Polin's overall responsibilities in helping bring the project to life included development/design, consulting, all waterslides, rafts/tubes/mats, FEC equipment, kids' interactive play structures and other children's equipment.
"Our client group was always gracious and hospitable, but more importantly, they became friends to all of us here at JRA," said JRA Senior Project Director, Randy Smith. "It is extremely satisfying to see a project come to fruition, open with vitality, and operate smoothly. We are proud to have played such an integral part from the beginning."
Signature waterpark attractions entice thrill-seekers
It's unlikely boredom will ever be a concern for the management of Land of Legends. The huge array of waterpark attractions provide entertainment not just for a few hours but for days on end. All waterslides were designed and installed by Polin's team of engineering experts and were manufactured using L-Resin Transfer Molding (L-RTM) composites technology. Polin pioneered the advancement and application of this process in waterslide manufacturing. The firm named the technology Magic Shine because the manufacturing process creates two perfectly shiny sides. As a result, waterslide components not only are more attractive, but they are also are easier to install, as well as stronger and lighter than comparable products due to their uniform thickness and smooth edges.
RTM also allows Polin's waterslides to feature other unique benefits. Specifically, they include the company's patented Natural Light Effects technology and Special Pattern Effects technology, as well as translucent color options. These engineering firsts have helped make Polin the recognized world leader in creating the largest RTM waterslide components.
At The Land of Legends, all waterslides feature Polin's specially engineered benefits - the Natural Light Effects, Special Pattern Effects and translucency. Interactivity is also a key feature of Polin's designs that are showcased at the park.
Astounding array of Polin waterslides contributes to park's world-class recognition
One of the aspects of The Land of Legends that sets it apart is the wide variety of Polin-designed waterslides it features. But even more unusual is the number of rides that were specially designed for the park, delivering one-of-a-kind experiences that guests won't find anywhere else in the world.
The Polin waterslides that guests can enjoy include:

The Magicone. Shaped like a giant funnel on its side, guests slide down a steep drop that sends them whirling around the conical interior. The installation of the Magicone at The Land of Legends is a first for the region. The Land of Legend is the only facility to feature this thrilling slide to date.
Family Rafting Slide. Guests of all ages ride together in six- or eight-passenger rafts.
Windigo. Guests enter alongside one another in enclosed tubes that spread out to create geometrical curves that curl parallel with the others and end in multiracer lanes.
Kamikaze. Expertly engineered to deliver high-speed thrills, this free-fall high waterslide features a curvy path that sweeps guests through several adrenaline-pumping drops.
Freefall. This waterslide offers an exhilarating drop for guests who want to experience the thrill of a freefall without the danger.
Looping Rocket.This attraction features a unique "launch capsule" 73 feet in the air with a trap door that opens to send riders through a high-speed, horizontal, 360-degree loop.
Space Boat. This extreme raft waterslide is one of the most poular bowl rides of the indutry. Guests begin a high-speed, enclosed tube ride through swirling vortex before they are discharged into a huge, open bowl.
Space Shuttles. These extreme-themed waterslides shoot guests through tubes into a space-shuttle-shaped pod. Thrusting sprays of water slow the ride, shooting riders side-to-side before expelling them downhill.
Black Hole. One of Polin's most popular rides, this tube waterslide provides high-speed travel through multiple turns and inclines with the extra adrenaline enhancement of Polin's patented Natural Light Effects technology.
A Navigatour + Rafting Slide + Black Hole Combo Waterslide. A unique design specially engineered for the the Land of Legends, the ride has set a record for being the longest watercoaster in the region with a triple uphill shoot.
The Compact Slide. An engineering marvel, this waterslide's compressed design features special angles and radius components to fit into even the smallest spaces.
Multi Slide. Designed to allow parks of any size to accommodate guests on mats or without, this ride features lanes aligned side-by-side with guests racing adjacently over multiple hills and drops and exiting into either a pool or run-out.
Black Hole + Rafting Slide Multislide Combo Waterslide. Another unique combo design that was specially created for this park, this fusion of several of Polin's top attractions allows multiple riders to experience a thrilling, adrenaline-filled ride.
Navigatour Uphill + Rafting Slide + Black Hole Multislide Combo Waterslide. The unique waterslide paths of this attraction - created specially for The Land of Legends - have never before been combined. The ride incorporates a specially engineered uphill section with both rafting and tunnel slides.
Lazy-Crazy River. Another of the aquatic attractions created specifically for this park, this ride is designed primarily as a crazy river - covering about 80 percent of the length of the river - with the remainder of the ride a relaxing lazy river, allowing guests to relax and float leisurely.
Collaboration leads to specialized attraction
Because The Land of Legends was such a unique project, Polin had the opportunity to collaborate with another leading firm in a specialized area within the waterpark industry: American Wave Machines (San Diego, California). This partnership led to The Land of Legends becoming home to the region's first SurfStream, theworld's first standing wave-surfing machine, which allows riders to use real surfboards and surf an endless wave.
This SurfStream installed at the Land of Legends is one of the largest in the world with a double surf-system configuration that allows the operator to function each side separately to feature different-size waves - up to seven on each side. That option allows one side of the ride to offer an advanced barrel wave while the other side can feature a wave perfect for family bodyboarding. Six surfers and 12 bodyboarders can use the attraction at the same time.
Polin also had the opportunity to offer the Wave Ball, first Wave Ball in Turkey. As you might reember, WOW Company (Belgium) and Polin Waterparks announced a new strategic alliance last year . POLIN is the exclusive distributor of the original WOW Wave Ball for Maghreb, Balkans, Middle East and for the Commonwealth of Independent States and Baltic countries. Wave Ball is the result of WOW Company's years of research and development in its efforts to create a complete range of wave devices that were compliant with industrial quality standards and approved by most international safety-certification bodies. It patented the technology and began commercially selling the Wave Ball in 1992. Today, more than 300 of the products are making waves in 46 countries worldwide and in facilities ranging from aquatic parks, campsites, public pools, recreationnal centers, resorts, aquariums, animal tanks, private pools and Rescue and Survival training centers. This unique product is now at the Legends of Aqua.
Attractions best-suited for smaller sizes
The Land of the Legends places special emphasis on its pint-sized guests. Colors in the hotel are bright, cheerful and rooms are adorned with whimsical fabrics, furniture and paint. Plus, it offers unique activities that encourage kids to showcase their talent in filmmaking, singing and the performing arts. So it's no surprise that the facility gives its underage visitors special attention with unique attractions, too. The variety of options in the Kids and Toddler Zone include these Polin Waterparks attractions:

Kids' Wide Slides. This miniature version of Polin's classic adult-sized Wide Slide provides the same entertainment value for small fry while ensuring complete safety.
Kids' Freefall. This mini version of the Freefall offers a thrilling drop suited to the younger set.
An Octopus Slide. This colorful attraction features six arms of stairs and waterslides with a giant octopus head that rains droplets of water.
Frog Slide. This miniature waterslide lets little ones slide tongue-first out of its mouth.
Baby Octopus Slide. A bright, colorful design attracts kids to this toddler waterslide.
Dolphin Fountain. This interactive option squirts an arcing stream of water.
A Mushroom. This fountain is available in two sizes with different color choices. Its main column can be manufactured as either painted epoxy or stainless-steel.
A Mini Pirate Slide. This interactive play center includes numerous waterslides for hours of excitement.
Water Play Structure (C12 version). Reaching more than 13 meters (43 feet) high, this multilevel structure has a sand and seashell theme and features 100+ interactive features, including five waterfall jets, 15 water guns and 13 tippy buckets. This massive attraction is the biggest water playground in EMEA region.
Ladies-only area
An especially unique experience for female guests is an area dedicated exclusively for their and their children's use. The attractions in this area include:

The Body Slide. This versatile requires no mats and offers a variety of design options and slide paths for varying speed levels and a mix of drops and straightaways.
Tunnel Freefall. This body slide delivers an exhilarating drop, combining adventure with adrenaline.
Kamikaze. Expertly engineered to deliver high-speed thrills, this free-fall, 88.58-feet- (27-meter-) high slide features a curvy, 315-foot- (96-meter-) long path that sweeps guests through several adrenaline-pumping drops.
Twister Racer. Thisfour-lane multi slideblends speed with twisting turns as multiple tubes intertwine to create a thrill-slide experience.
Hybrid Racer (Space Boat + Turbo Lance Combination). This combo merges racing waterslides with the Black Hole's enclosed tube slide to send guests into a whirling open bowl before speeding uphill on a steep vertical slope, then backward on a reverse path over a bump and into a splash pool.
Black Hole + Flying Boats Combination. This combo shoots riders along a high-speed, special-effects-fueled ride with additional rushes up-and-down before a final downhill and unexpected drop.
Family Rafting Slide. The first RTM-manufactured family waterslide in the industry allows guests of all ages to ride together in a six- or eight-passenger raft.
The Wave Ball. Created by the WOW Company (Belgium), this attraction sits in the center of a pool and uses powerful software and hardware to control the frequency and size of the pool's waves. The size of this installation is a first in Turkey, making it one of the park's top attractions since its installation. Part of the appeal is based on Polin's design skill, in collaboration with WOW engineers, to create a pool that resembles a typical wavepool shape.
Water-Play Structure (B6 type). This smaller version of the park's main water-play structure reaches 10.8 meters (35 feet) into the air and features 53 different interactive elements.
Lazy River. Relaxation is the focus of this leisurely mode of transportation.
Additional features add to luxury experience
Guests who need a respite from the excitement of the park's thrill rides can relax in spacious cabanas that include private showers. Or they can walk through the dolphinarium and experience a "close encounter" with these intelligent creatures. When hungry, guests can feel immersed in their aquatic adventure as they dine within a glassed-walled restaurant where sharks glide.