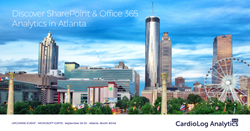 Ignite Portal Productivity with SharePoint/Office 365 with Analytics
Boston, MA (PRWEB) September 20, 2016
The CardioLog Analytics team is pleased to announce they'll be in Atlanta for the Microsoft Ignite Conference, from September 26-29th. The team will be exhibiting at booth 2148 and will be giving away 5 GoPro cameras throughout the week. Microsoft Ignite is the largest technology event of the year - with industry insights, interactive digital labs, product roadmaps and direct access to experts.
At the booth the team will be showcasing both CardioLog Analytics On-Premises as well as CardioLog SaaS on Power BI. The team will also be demonstrating report insights, that will give users valuable information including tips and case studies to help them improve their SharePoint/Office 365 Adoption, Migration, Productivity and more.
The Expo Hall will host a community of experts and solution providers at Microsoft Ignite. Attendees can expect to make valuable contacts and learn best practices from those who understand their challenges. There will also be sessions on hundrerds of topics like : big data, analytics, productivity, unified communications, operating systems, mobile devices, business process and more.
CardioLog Analytics will also host a webinar on Wednesday, September 22st, as part of their Microsoft Ignite Webinar Series, demonstrating how to use analytics to boost a SharePoint/Office 365 Migration.
To register, click here.
About Intlock:
Intlock, developer of CardioLog Analytics, has been a leader in the field of analytics for SharePoint, Office 365 and Social Platforms for over 10 years. Their product - CardioLog Analytics – provides web-analytics and online marketing solutions for SMB and enterprise-level intranet portals and websites. CardioLog Analytics, delivers deep insights into the performance of portal, web and social platform initiatives through testing, tracking and targeting, ultimately enabling organizations to optimize their portal's impact and maximize their return on investment. The solution is available for both On-Premises and SaaS deployments.
Intlock is led by a team of experts in the field of application development, knowledge management, web analytics, portal monitoring and control, and software engineering. It's product and solutions are installed in organizations from various industries, including financial services, government, telecommunication, entertainment services and others.
Intlock firmly believes that partner alliances are a beneficial way to help enhance the product as well as strengthen alliances within the SharePoint and Office 365 communities. By working together, cost effectiveness and ease of implementation are greatly improved. Partner alliances shorten implementation times and enable the adaption of the products to any technological environment a customer may have.