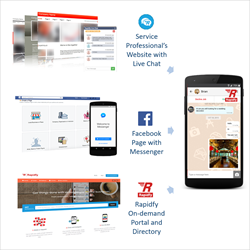 Our goal is to connect service professionals and small enterprises with customers and leads on all channels as one.
San Francisco (PRWEB) September 20, 2016
With users on messaging apps surpassing that of social networks, messaging is looking to be a substantial channel to which customers connect with brands and businesses. However having customers on different messaging platforms presents a hassle to businesses trying to manage it all.
With Rapidfy's Live Chat, chats from visitors to the service professional's website, Facebook page or the Rapidfy platform can be answered and managed in one single mobile app, at no extra cost to service professionals hosting on the Rapidfy platform. Integration with more messaging platforms are under development.
Photo: Rapidfy unified messaging platform link here
With the rise of messaging apps, conversational commerce is becoming increasingly important in customer to business communication. Rapidfy offers artificial intelligence powered chatbots for select industries to reduce human agent workload by automating as much of the customer support workflow as is possible. Alternatively Rapidfy offers customer support outsourcing where chatbots would be unsuitable. Both these services will be offered to service professionals at a very affordable cost.
These features expands on Rapidfy's portfolio of services provided by its platform to customers and service professionals which include the on-demand matching system, in-app and web chat, location based business directory and job browser. These services are available on its website, iOS app and Android app.
The Rapidfy matching system lets customers make a request for services that they need on the web portal or mobile app. These requests are sent to nearby service professionals with the right skills as a group broadcast. Interested service professionals can then respond to that request with quotes or chat with the customer to get additional information.
Although Rapidfy automatically sends job requests that the system considers is relevant to a service professional, they can also pick and choose jobs that they feel they can do with the job browser. Requirement details, budget and location are listed for the service professionals to review before picking up the job.
Rapidfy's business directory gives customers a more convenient method of discovering available service professionals around their location. Customers can pick and choose who they would like to hire by browsing and searching nearby service professionals for something they need done. Customers can then talk directly to the service professional with the app and even on the web portal.
The Rapidfy platform automatically publishes information of service professionals hosting on the Rapidfy platform in their web based business directory. This allows service professionals that don't have a website to show up on search engines like google when a customer performs a search. A "Make Request" feature also allows potential customers to request for a quote from the service professional instantly within the business directory.
About Rapidfy
Rapidfy is an on-demand platform with a majority of service professionals coming from United States, Australia, Singapore and Malaysia. It provides multi-channel matching services for customers and service professionals while a customized enterprise version is available on a SAAS and partnership model via its sister company Rapid Assign. Visit them on https://rapidfy.com.