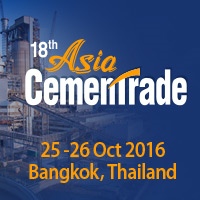 Expected attendees at this summit include Senior executives / traders from international / regional cement companies, ready-mix concrete companies, pre-cast & building materials companies, cement raw materials suppliers (slag, fly ash, steel, coal) & more
Bangkok, Thailand (PRWEB) September 21, 2016
The global economic slowdown, oversupply in Asia's cement markets coupled with aggressive competition are triggering producers to explore export markets as well as new strategies. CMT's 18th Asia CemenTrade Summit convenes in Bangkok 25-26 Oct 2016 bringing together experts and key players in the Cement and Construction industry to share insights and experiences.
The event kicks off with a briefing on the Global Economic Outlook by Dr. Amonthep Chawla, Head of Research Office & SVP, CIMB Thailand Public Company Ltd. Next, Growing a Sustainable Cement Business in Thailand and the Region offers cogent strategies for producers struggling with the current slowdown. In Global Cement Outlook 2016/17, Mr. Imran Akram, CEO, IA Cement Ltd, will brief on current and emerging trends in USA, Europe, Asia, Africa as well as Latin America.
Attendees will be furnished with in-depth country focused updates on Indonesia, Bangladesh, South Korea, Iran including Central Asia and India, by Mr. Rizkan Chandra, President Director PT Semen, Mr. AK Singh, COO, Cement, Unique Cement, Ind Ltd, Mr. Jae Beom Park, GM Int Business Team, Ssangyong Cement Industrial Co, Ltd, Mr. Arash Habibi Azad, Planning Manager., Fars & Khuzestan Cement and Mr. Anand V Mohta, VP, Head, Strategy and Dev., Ultratech Cement Ltd, respectively.
Other Key highlights include:

Asian Gypsum Industry makeover by Mr. Ramachandran, Director & CEO, USG Boral Zawawi Group
Current Trends in Dry Mix Mortar Market in SE Asia by Mr. Malik Jamal Jaffar Ali, Senior Technical Services Manager., Wacker Chemicals (South Asia)
A rough journey for the dry bulk shipping market: implications for cement and clinker transportation by Mr. Owen Mulford, Senior Chartering Manager, Supramax, Chartering of J Lauritzen , Singapore, Pte Ltd
Waste heat recovery for the Cement Industry by Sanjay Puri, Global Head, Construction material investments & Chief Investment Officer, IFC
Additional sessions on Vietnam, The Philippines & Myanmar will also be discussed.
Expected attendees at the 1.5 day summit include Senior executives / traders from international / regional cement companies, ready-mix concrete companies, pre-cast & building materials companies, cement raw materials suppliers (slag, fly ash, steel, coal), construction / infrastructure / building / equity / research analysts, project financiers/banks, engineering, environmental & CDM consultants, technology & equipment providers, logistics & shipping companies (dry bulk and cement carriers)
For more information visit the website or call Grace at +65 63469147