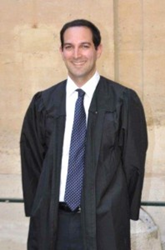 I cannot thank the Trustees enough and the late Henry Malcolm Hubbard for giving me this unique opportunity.
(PRWEB UK) 21 September 2016
The HM Hubbard Trust is once again inviting applications from qualified and trainee lawyers, and those with a law degree intending to practise as a solicitor, for substantial funding to support them through their international study.
The Trust provides Scholarships of up to £27,000 for a year's Masters level course for lawyers who wish to study the law of Canada, Spain or France.
The Scholarship was created by the Will of London based solicitor, Henry Malcolm Hubbard, who wanted to encourage trainee solicitors to study aspects of the law of France, Spain and Canada. Henry Malcolm Hubbard had business interests in Canada, Spain and Latin America. It is believed that he worked in Barcelona and was instrumental in bringing electricity to that part of Spain.
Past recipients are full of praise for the Trust:
"After several years practising as a solicitor, I decided that I wanted to change direction in my career and was delighted when the Trustees awarded me the Scholarship. I spent nearly a year in Paris, gaining an LLM in French Law and European Union Law, followed by a three month placement in a Paris law firm. The LLM qualification and the work experience will be vital for my career aspirations and living in Paris has been a wonderful experience. I cannot thank the Trustees enough and the late Henry Malcolm Hubbard for giving me this unique opportunity." Nicholas Saxena.
Commenting on the awards provided by the Trust, Vince Cheshire of TMF Group (the Trust Administrator) said:
"The funding provides a life changing opportunity for ambitious lawyers. More than ever it is important for lawyers to have an international outlook. Studying abroad for a higher qualification provides a substantial lift in both legal knowledge and cultural understanding, both of which are very important when working across national borders."
The closing date for applications is 30th November with short-listed applicants being asked to meet with the Trustees in December.
Further information on the Trust and the application process can be found at the Trust web site: http://www.hubbardlawscholarship.com. Application forms are also available from the site.