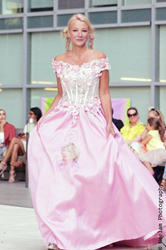 The Journey Fashion Festival is a timely and cutting edge concept serving an industry in flux. A different spin on how fashion is presented, experienced and promoted. Malena Belafonte creator of The Journey
New York, NY (PRWEB) September 19, 2016
In today's fashion industry, putting a solid foot forward and being noticed is not an easy task, but that's precisely what THE JOURNEY FASHION FESTIVAL did during Thursday's press event at New York's MERCEDES CLUB. Conceived by Malena Belafonte, The Journey Fashion Festival served up a teaser of what will be officially presented during the upcoming New York Fashion week in February 2017.
The show laid out hard with latin dancers taking on the 3 leveled runway to the theme song from James Bond. Este and Chlo by Henry Picado opened the show with 60 models coming out on all 3 levels making for an ocean of Haute Couture gowns. The creator of The Journey, Malena Belafonte walked the three minute long runway wearing a stunning gown with images of Hillary Clinton lightly showing through the fabric. Costa Rican designer, Henry Picado took his bow wearing a shirt with a large image of Hillary Clinton as well.
The stage was set for Genocide survivors Uwi Twins from Canada who presented a men and women's collection inspired by Parisian Street-wear with a touch of African Luxury, interlacing the brothers' childhood with their adult lives. Uwi Twins Fashion Label's second appearance during New York Fashion Week gave a clear message that Uwi Twins are here to stay. The looks were created by Salon SCK and Glamazon Beauty by Kim Baker. A beautiful bohemian wedding collection Cristalle featuring Letica handbags by designers Cristina Marulanda and Alejandro Trocco had Latin dancers dancing a sensual rhumba alongside models. The most beautiful moment was when the final look was worn by acid attack surviver Monica Singh who walked the runway with pride, dressed as a bride, giving hope to domestic abuse victims. The Haute House Design Studio debuted 3 Haute House emerging designer brands. Dashawn Hightower showed a innovative urban collection with standout pieces such as a white florescent mini dress with oversized sleeves. Rufus Dixon showed a multi colored leather collection featuring sleek cutout detail with great fit, and Brzozowska Fashion showed a short but impressive art printed collection featuring casual wear to party dresses. The Haute House Design Studio is the brain child of Taneshia Camillo-Sheffey.
Hungarian top designer Makany Marta showed four collections as The Journey's grand finale. From Haute Couture to Gypsy looks, the colorful collections stood out against the New York skyline. The designer's motto "The Way We Love" was reflected in every look and the four collections clearly reflected the many different cultures from which the designer draws inspiration. The Hungarian traditions braided into International designs made for a showcase of a wide range of emotions.
Before and after the show, guests mingled in the outdoor lounge area, while sipping cocktails supplied by Ellington in the Park and tasting hors d'euvres by Aldomas and Hungarian National Trading House. The crowd viewed collections by designers indicative of why Malena Belafonte's THE JOURNEY FASHION FESTIVAL was conceived. A platform that combines diversity and accessibility for established and emerging domestic and international designers, giving them a high profile presence during Fashion Week in NY and additional markets, in a new and innovative format where the "system" has traditionally worked for only a few privileged designers and has excluded the public at large. THE JOURNEY FASHION FESTIVAL will level this historically exclusionary playing field, giving these gifted designers, the fashion industry, and the public, the exposure and the voice that has been missed for far too long.
Please email for more information or any further requests regarding The Journey.
Pinkpirateagency(at)gmail(dot)com