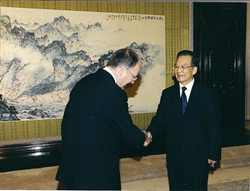 Lau China Institute weekly events and publications bring to the public the latest expert thinking on Greater China in the heart of London
London (PRWEB UK) 21 September 2016
The Lau China Institute of King's College London is a unique centre for research and teaching on Greater China, including Taiwan and Hong Kong in addition to the world's second largest economy. A genuinely multi-disciplinary centre, one where environment, healthcare and finance sit alongside social and political science, culture and history, the Lau China Institute also engages the public in weekly research seminars, book launches, a policy paper series and working paper series.
Director of the Lau China Institute, and previously the Head of the East Timor, Indonesia and Philippines section of the British Foreign Office, the prolific writer and public commentator Professor Kerry Brown has recently signed a memorandum of understanding between the Lau China Institute and the Director of Security & Crisis Management at the Shanghai Academy of Social Sciences (SASS), China's oldest think tank and policy advisory unit set in the heart of the megacity municapality. This will facilitate joint research, policy influence and the already flourishing educational and research exchange partnerships between King's College London and universities in China.
Given the recent interest in China and particularly a resurgence of security concerns (for example, Australia recently refused an acquisition of Ausgrid by Chinese investors, the US has warned against doing business with China in strategic industries, and the UK recently approved after a special investigaton the Chinese involvement in the Hinkley Point nuclear power plant deal), the Lau China Institute has invited world-leading security expert and security consultant to the UK and Australian governments, Professor Greg Austin, to deliver an exclusive paper on China's cyber power and security as the inaugural Lau China Institute Research Seminar for the coming academic year 2016/17.
This public launch event, involving a China security and cyber power talk and live Q&A with Professor Austin, will take place in the prestigious Nash Lecture theatre at the Strand Campus of King's College London at 5.00pm (for 5.30pm start) on Wednesday, 28 September 2016, as part of a series of weekly events hosted by the Lau China Institute with guest speakers from around the world. As a public event, there is generally no need to book or register, guests are welcome into the College at these times.
Other upcoming events at the Lau China Institute include Stein Ringen on 'The Perfect Dictatorship - China in the 21st Century', a film screening of Nick Torrens' 'China 3Dreams' in collaboration with the China Visual Festival, highly regarded China civil society researcher Dr Andreas Fulda, and Professor Andrew Tylecote on China's high technology challenge. Several researchers from the University of Oxford will be presenting guest seminars during the 2016/17 calendar including popular China author, column-writer and political economist, Will Hutton.
If you or anyone you know are interested in the latest research and policy thinking on China, then the Lau China Institute welcomes you and/or your guest(s) to this Research seminar, Policy Paper launch and Book Launch series that will take place on Wednesdays at 5.30pm throughout the Autumn and Spring semesters.
For more details:
Lau China Institute Events Webpage
Complimentary downloads of accompanying papers for the talks where applicable are available at the Lau China Institute website. It is not necessary to book for these events, although you are welcome to register your interest.
You can follow the Lau China Institute on facebook and twitter.
Lau China Institute Facebook page
Twitter handle: @lauchinainst
Press Email: china-institute(at)kcl.ac(dot)uk