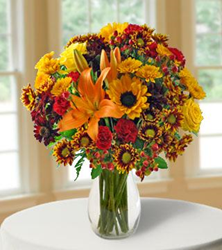 HAYMARKET, VA (PRWEB) September 21, 2016
Just the mention of autumn's arrival conjures up images of plump pumpkins, warm apple cider, football, fall foliage, favorite sweaters and cool mornings. Stunning colors come out of the primary pigments of yellow and red and run around half the color wheel in vibrant shades of orange, gold and crimson. Earthy tones of terra cotta, burlap, latte, rust and desert sunsets lend a wholesomeness to this glorious season with pops of green, the most common color found in nature.
The Fall Collection from bloomstoday.com embraces that fall is in the air for its focus on flower textures, colors, design, beauty and style. Each floral arrangement has been thoughtfully designed for eye appeal, fragrance and balance. There is as much attraction in variety as there is in singularity. Bouquets of complementary stems, patterns and colors project diversity and interest, while multiples of the same flower, like the 24 Multi-Color Long-Stem Roses bouquet or Lazy Day Sunflowers, deliver continuity.
The entire Fall Collection has been developed with autumn in mind, that time of year when people embrace themes like harvest, thankfulness and family. Social events like tailgating, having friends to watch football on TV and Oktoberfest are perfect for floral bouquets and centerpieces in the rich tapestry of fall colors. While flowers take center stage, the containers are also part of the package, with baskets, buckets, a ceramic pumpkin dish with a lid, woven cornucopia, glass cubes and more.
Just a few of the spectacular, thoughtful, hand-arranged bouquets are:
▪ Country Gathering ~ clustered inside a burlap-wrapped vase, sunflowers, button poms, hypericum, roses and fresh greens look like an afternoon walk in a fall field
▪ Autumn Glory ~ combines the best of fall with orange lilies, bright yellow sunflowers, rusty mums and carnations that arrive in a charming willow lantern and glass vase
▪ FTD® Fall HarvestTM Cornucopia ~ burgundy and gold assortment of lilies, carnations, sunflowers, bi-color daisies, oak leaf stems and enchanting greenery
Bloomstoday.com is a leader in the fresh flower industry with professional affiliations with FTD, Teleflora and 1-800-FLOWERS all across the country. Co-founders George Dukas and Don Mayer have roots in the floral business that go back nearly a century. They have optimized customer service and been recognized for it with a "Best Customer Service" award for their online chat system. Bloomstoday.com has also received Top Sender Awards from FTD and Teleflora for its commitment to quality on every level.
The entire staff at bloomstoday.com takes pride in their professional skills, stellar customer service and having their call center and all team members based in the U.S. Quality, value and service are the hallmarks of their business as they strive to exceed expectations with every single fresh flower arrangement and delivery.
As fall deepens on the trail to winter, people want to fill their homes and workplaces with the warmth and beauty that only comes in fresh flowers. Bloomstoday.com reminds everyone that it doesn't take a special occasion to send flowers. Sending flowers makes the occasion special. The Fall Collection can meet all the floral needs of every home and office. And yes, we all need flowers.
About Blooms Today
Blooms Today™ has taken the local flower shop feel and deep understanding of customer needs to a nationwide floral delivery service provider level. With a deep commitment to exceeding customers' expectation for quality, value and extraordinary service, Blooms Today has served millions of customers nationwide for more than 15 years. From a small local floral business with roots that stem back to the early 1920s, co-founders George Dukas and Don Mayer in 2000 have built a family business that is known as Blooms Today.
Blooms Today™ offers a wide variety of Elegant Flowers, Plants and Centerpieces and is your one-stop shop for all your floral needs. Orders are delivered by our local preferred florists through partnerships with the top three floral networks, FTD, a relationship in place since the 1930's, 1-800-Flowers, and Teleflora or handpicked from select farms in South America, Holland and from California. Blooms Today™ continues with a promise to provide excellent customer service and superior quality to every customer. Blooms Today™ prides itself in the ability to provide expedited service to customers and offers a 100% money back guarantee on all products. Through its online store and website, Blooms Today™ offers an affordable "best-of-class" experience to bring joy to the lives of loved ones. Creating Smiles Across America!