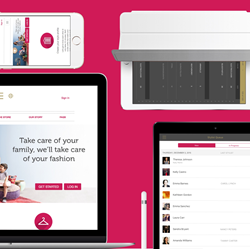 Trendsend is a perfect example of how new technologies can be leveraged to address business goals in an innovative way.
Minneapolis, Minnesota (PRWEB) September 21, 2016
Evereve and Ackmann & Dickenson (A&D) will present the recently released application Trendsend at MinneDemo24, Minnesota's foremost technology showcase event. The event will be held at The Riverview Theatre in Minneapolis on Wednesday, September 21st.
Evereve, a fashion-forward retailer for moms, had a unique business need to grow their monthly subscription box business. With the evolution of direct-to-consumer ecommerce models, a new generation of users are looking for high-touch, data-driven and convenient services. From that need the Trendsend application was born.
"MinneDemo gives us the unique opportunity to showcase the functionality of Trendsend and to share our vision for a highly-personal and highly-customized ecommerce experience," says Evereve CIO Anthony Hoang. "It's a great tradition in the Minnesota development community and we are honored to be a part of it."
Launched in August 2016, the Trendsend application is now available to over 1000 Evereve stylists across their 60+ locations and 22 states. The iPad application (employing native iPad features like the built in camera) enables Evereve to deliver its new service nationwide.
Using Rails, Java, NodeJS, ReactJS and iOS, A&D software engineers created Trendsend's intuitive user-interface. With its focus on creating efficiencies in Evereve's fulfillment and customer service centers, Trendsend is built to support and scale with Evereve's ecommerce business model.
"Trendsend is a perfect example of how new technologies can be leveraged to address business goals in an innovative way," says Jason Bucki, Director of Software Engineering at A&D. "This project allowed the A&D team to flex our development muscle by using cutting-edge frameworks and languages such as ReactJS. The end result is a responsive experience for the user built on a strong foundation for future versions of the product. "
MinneDemo is for real, working technology products made in Minnesota.
About Ackmann & Dickenson
Ackmann & Dickenson (A&D) is an application development and digital marketing firm that delivers tailored technology solutions. A&D's unique breed of digital craftsmanship has brought organizations to the forefront of technology by providing expertise in mobile and web development, user experience design, and digital marketing.
About Evereve
Evereve specializes in trends for a mom's evolving and busy lifestyle. Evereve operates 62 stores in 22 states across the U.S. All of Evereve's fashion can also be found online at evereve.com. For those who don't have time to shop in-store or online, Evereve offers a personalized styling service called Trendsend. Busy trend seekers complete a style profile on trendsend.com. Based on body type and lifestyle, an Evereve stylist will personalize two to three outfits, which are then shipped right to one's home. Evereve calls Trendsend "our store experience in a box."